The Colonial Pipeline cyberattack by hackers in April sent shockwaves through U.S. national security circles. What do we need to know about cybercrime and how to prevent it? Newt's guest is Chris Gore, CEO of D4C Global, a counterintelligence firm based in Virginia. This interview was recorded in September 2019.
Guest: Chris Gore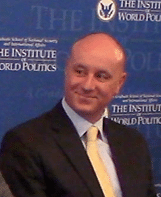 Articles
5 Essential Steps To Protect Yourself From Hackers And Online Criminals
Huawei Suspended From Global Forum Aimed At Combating Cybersecurity Breaches
Report Of The U.S. Senate Select Committee On Intelligence On Russian Active Measures Campaigns And Interference
NATO: Attack Like WannaCry Could Prompt "Collective Defense Commitment"
11 Eye Opening Cyber Security Statistics for 2019
The Sony Pictures Hack, Explained
Hackers Hit Twitter C.E.O. Jack Dorsey in a 'SIM Swap.' You're at Risk, Too.
U.S. Plane In China After It Collides With Chinese Jet
Counterfeit Air Power: Meet China's Copycat Air Force
How much has the US lost from China's IP theft?
---
Newt's Latest Podcasts:
More from Gingrich 360 Network: