---
Joe Biden's border fiasco is just further proof that President Trump was right on this issue and how to keep the US secure.
---
by Isabel McMahon 
On Jan. 12, former President Donald Trump visited the United States-Mexico border to thank the Departments of Homeland Security, Immigrations and Customs Enforcement, and other law enforcement officers for their work in helping to secure the border.  
Most importantly, President Trump said "In particular, if our border security measures are reversed, it will trigger a tidal wave of illegal immigration — a wave like you've never seen before… To terminate those policies is knowingly to put America in really serious danger and to override the great career experts that have worked so hard." 
On Jan. 20, President Biden issued the Executive Order on the Revision of Civil Immigration Enforcement Policies and Priorities. This executive order reversed President Trump's Executive Order 13768 which "called for the prompt removal of all undocumented immigrants living in the United States and withdrew federal funding from so-called sanctuary states." 
On the same day, President Biden issued the Proclamation on the Termination of Emergency with Respect to the Southern Border of the United States and Redirection of Funds Diverted to Border Wall Construction. This proclamation "halted construction of the wall along the US-Mexico border and stated that funds for border wall construction would be reallocated following a review of construction contracts."  
The DHS also announced the suspension of the Migrant Protection Protocols (MPP) program. The MPP program, or the Remain in Mexico policy, allowed border officers to send non-Mexicans seeking asylum to holding facilities on the Mexico side of the border as they awaited their immigration hearings.  
President Biden also issued two more Executive Orders on Feb. 2. The first was The Establishment of Interagency Task Force on the Reunification of Families, which reversed President Trump's "zero tolerance" Executive Order 13481.  
The second was the Restoring Faith in Our Legal Immigration Systems and Strengthening Integration and Inclusion Efforts for New Americans. This order "revokes the Presidential Memorandum of May 23, 2019, which called for more stringent enforcement of immigration sponsorship requirements." 
U.S. Customs and Border Protection (CBP) announced that there were 188,829 migrants encountered at the southern border in June. In May there were 180,034 encounters, and in January when Biden took office, there were 78,442.  
According to Fox News, "33,049 migrants were encountered in June 2020… in June 2019, when the border was in the midst of what was then a historic crisis at the border — 104,311 were encountered… June's numbers also take the number of encounters in FY 2021 to more than 1 million, with three months left to go. That's in comparison to just over 458,000 in all of FY 2020 and 977,509 in all of FY 2019."  
Furthermore, "meth seizures away from ports of entry are also up 85 percent so far this fiscal year. Fentanyl and meth seizures at the ports of entry are also up, 719 percent and 781 percent, respectively" according to the U.S. Drug Enforcement Administration.  
However, the members of the left cannot accept their immigration pitfalls, and they certainly can't admit when President Trump may have done something that worked. This is most clearly shown in President Biden's claim that his administration inherited "one god-awful mess at the border" from his predecessor. 
There is no denying that Trump was right, and Biden is wrong. Biden's executive orders speak for themselves, and the crippling crisis at the border is the proof.  
---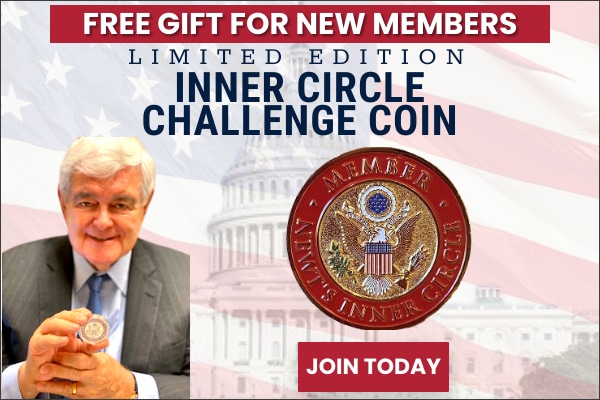 ---
Newt's Latest Features: