---
America
mu
st not
allow our national security to be compromised by
a
bureaucracy
that re
fuses to take the steps needed to protect
us
from
our adversaries
.
---
By Jessica Jacobs
The United States' relations with Communist China have become increasingly tense as the new administration mishandles decision after decision. President Biden's unwillingness to make firm decisions projects national weakness to our adversaries. These weaknesses will cause Biden's next crisis.
A recent Axios report found that several federal law enforcement agencies have recently purchased surveillance drones from a company based in China that has been identified as a national security risk to the United States and as a facilitator of human rights abuses.
Da Jiang Innovations (DJI) is the world's leading manufacturer of commercial drones.
In 2020, DJI was blacklisted by the U.S. Commerce Department after providing surveillance technology to security forces in Xinjiang, where the Chinese Communist Party is committing genocide against predominantly Muslim Uyghurs and other religious and ethnic minorities.
But in addition to further enabling the Chinese Communist Party to wage its murderous campaign in western China, DJI raises significant privacy and national security concerns for U.S. users of their products.
According to a 2017 Pentagon statement, DJI "provid[es] U.S. critical infrastructure and law enforcement data to the Chinese government."
Such warnings were heeded by the U.S. Department of the Interior. In 2019, the Interior Department grounded more than 800 aerial drones, all of which were cited to have been made in China or have Chinese parts. Additionally, DJI's personal and commercial products require the users to download DJI software to access mapping tools. Interior Department officials were "concerned the drones may be sending information back to the Chinese government or hackers elsewhere to use for cyberattacks or other offenses."
As Sen. Marco Rubio said, "DJI's cyber security vulnerabilities are well documented…Given everything we know about the Chinese Communist Party and its companies, there is absolutely no excuse for any government agency to use DJI drones."
These concerns about DJI have not gone away, yet on July 20, the FBI purchased 19 DJI drones and several days later, the Secret Service purchased eight DJI Drones.
The Biden administration is undeniably aware of the national security risks that DJI poses to the U.S. but appears to be choosing to ignore them. On July 23, the Department of Defense released a statement on Da Jiang Innovations (DJI), claiming that systems produced by the company "pose potential threats to national security."
Embedding compromised technology within our security and intelligence forces is dangerous for America and puts our men and women in uniform at risk. Additionally, the U.S. government should not use taxpayer dollars to support a company that is a known contributor to human rights abuse.
DJI technology creates vulnerabilities that could give the Chinese Communist Party access to critical information. America must not allow our national security to be compromised by a bureaucracy that refuses to take the steps needed to protect us from our adversaries.
---
---
---
Newt's Latest Features:
Get Newt's Latest Book: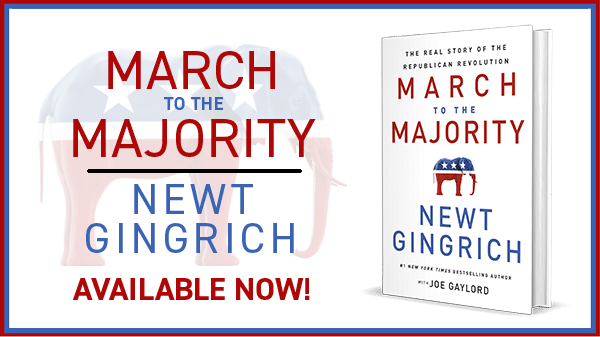 ---