If Democrats are held accountable for the Biden disaster – as they should be – they will lose by enormous margins. 
---
Republicans have a simple, clear path to an amazing majority this fall.
First, Republican candidates should campaign at gas stations and grocery stores. These are the places where Americans of all backgrounds are reminded that President Joe Biden's failures are hurting their pocketbooks and quality of life every day.
Second, Republicans must stick to the big issues that affect people's lives directly. These include inflation, gas and food prices, crime, parents' right to know what is happening in their children's schools, and massive illegal immigration. They must not allow their Democrat opponents or the propaganda media to drag them into scuffles over smaller issues.
Third, Democrats now believe the issue of abortion will save them. Abortion is a difficult, complex issue because there are two lives involved – the mother's and the baby's. Both are important. It is the Democrats who are the extremists on abortion. Republicans must simply hammer away at this extremism. The fact is: Only 17 percent of Americans believe abortion should be legal up to the moment of birth (which many Democrats advocate). GOP candidates need only assert that they are with the majority of Americans. Extreme positions will lose a majority of the American people.
Fourth, Republican candidates must always refer to their opponents as part of the Biden ticket. When asked about their races, they should say, "I don't think the Biden-[opponent] ticket can win in our state or district." Democrats are already distancing themselves from Biden because his disapproval ratings are so high. If Democrats are held accountable for the Biden disaster – as they should be – they will lose by enormous margins.
This last point is particularly important in U.S. Senate races. The voting patterns of Senate Democrat incumbents legitimately tie them to President Biden and Democrat majority leadership. This also inextricably ties them to inflation, rising energy prices, increased crime, the humanitarian and security crises at the border, and woke government policies being imposed on unwilling Americans.
Michael Bennet in Colorado, Richard Blumenthal in Connecticut, and Patty Murray in Washington have supported the Biden-Democrat agenda 98 percent of the time.
Raphael Warnock in Georgia and Catherine Cortez Masto in Nevada have voted with team Biden 97 percent of the time.
Maggie Hassan in New Hampshire and Mark Kelly in Arizona have supported the Biden disasters with 96 percent of their votes.
When the lowest support level among incumbent Democrats is 96 percent – making the highest disagreement level 4 percent – these senators are clearly part of a Biden ticket. No matter what they say at home, in Washington, they automatically vote with the Biden machine.
A Biden-Warnock ticket in Georgia is a big load for the Democrat incumbent to carry. Trying to dodge his voting record will make Warnock look like a liar and a hypocrite. The same is true in every race involving a Democrat Senate incumbent (and in Ohio, where a Democrat House member is running for an open Senate seat).
Republican House candidates running against Democrat incumbents have a similar advantage. For example, Democrat Congresswoman Marcy Kaptur of Ohio and so-called maverick member Jared Golden of Maine both claim to be independent of Biden.
Kaptur's claim of independence is beyond laughable. She voted against the Biden team only eight times (0.9 percent of the time in this Congress). If you are with the Biden-Democrat agenda 99.1 percent of the time, it is hard to claim independence from the party or its failures.
In Golden's case, he has a tiny claim. He voted against Pelosi's will 8 percent of the time. Of course, this means he voted with the Biden-Pelosi machine 92 percent of the time.
Placing President Biden and his policies at the center of every incumbent race will force the Democrats into unbelievable contortions as they try to shirk responsibility for the disasters their team is unleashing on the American people.
Republicans should stand at gas stations and grocery stores with handouts that say "Thank the Biden-[opponent] team for the higher prices you are paying. If you want lower prices, vote for me."
This will be a wave election year, but it will be a red, white, and blue American wave. Americans of all backgrounds will repudiate the Biden team's disasters that are being heaped upon our families and our country.
---
---
Newt's Latest Articles:
---
Newt's Latest Podcasts:
---
Get Newt's Latest Book: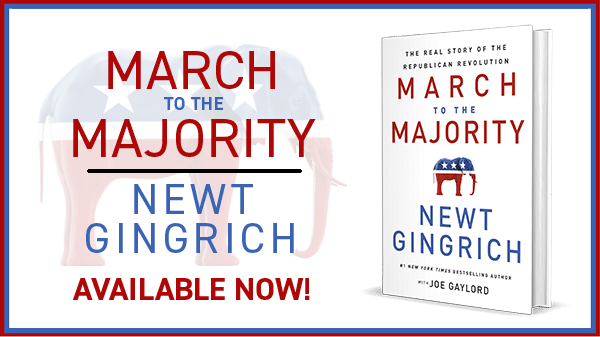 ---