Speaker-designate Kevin McCarthy's majority will be challenging to manage — but it's certainly not unprecedented.
---
When it was announced (eight days after the election) that Republicans would have at least 218 U.S. House seats and take control, many people commented that they'd have a terribly small majority.
Of course, Speaker Nancy Pelosi was going to hand the gavel over to Speaker-designate Kevin McCarthy. This represents a huge shift in power. As I wrote last week, the gavel only comes in one size. The Speaker has a dramatic amount of power no matter how large or small his or her majority is.
All the pundits' talk about how hard it will be for Speaker-designate McCarthy to get things done led me to research the number of narrow majorities in the last century or so (with help from the Office of the Historian of the House).
In fact, some Speakers got a lot done with slim majorities. Some majorities proved incapable of working together effectively and did not get a lot done. Only time will tell if the House Republicans can organize effectively in 2023 and drive their agenda. Certainly, the organizing meetings of the House GOP Conference have so far been encouraging. Members have offered amendments (and the Freedom Caucus even ran a candidate against McCarthy). Republicans shaped a relatively reasonable future of adopting practical reforms while rejecting proposals that would make it impossible for the leadership to lead.
The decisions of the House GOP Conference have increased the likelihood of their success as a narrow Republican Congress. This potential for effectiveness should not come as a great shock.
In the last Congress, Speaker Pelosi had a small 222 to 212 majority – and yet she passed trillions of dollars in spending and a number of radical bills.
As I began to research the number of narrow majorities in the House, I was surprised to learn that Speaker Dennis Hastert had only a 223 to 211 majority (with one independent in addition to the Democrats) when he replaced me in 1999. That narrow majority didn't inhibit Republicans from getting things done.
Two years later, in 2001, Hastert had an even narrower 221 to 212 majority (with two independents). Yet, in the aftermath of the Sept. 11, 2001, terrorist attacks, he was able to lead a unified House in getting a lot done. They enabled the Bush administration to respond to the terrorist war on America, to cut taxes dramatically, and to pass bipartisan education reform. Hastert's majority grew to 229 after the 2002 elections, and then to 233 after the 2004 election. It then ended with the Democrat Party takeover in 2006, when Pelosi became Speaker for the first time with 233 seats.
Hastert became the longest serving Republican Speaker, yet his speakership began with narrow majorities and then grew.
Prior to the Contract with America in 1994, the last Republican majority was elected 40 years earlier in 1952, along with President Dwight Eisenhower. It, too, was a narrow majority, with only 221 Republicans. Yet, Congress passed Eisenhower's conservative program after 20 years of Democrat Presidents (Franklin Delano Roosevelt and Harry Truman).
The breakdown of President Roosevelt's New Deal majority was obvious in the 1942 elections, when Democrats held on to only a 222 to 209 majority (with four independents). Since there were a lot of conservative Democrats in that era, the effective majority was a Republican-Southern Democrat coalition. The liberals were in a minority even though Democrat Sam Rayburn of Texas was Speaker of the House.
Going back further, the emergence of the Democrat Party and the New Deal coalition was signaled at the beginning of the Great Depression in 1931. The Republican majority dropped to 218 (with 216 Democrats and one independent). The GOP had collapsed from its massive 270 seat majority in the previous Congress. After the election, there were three vacancies and the Democrats won them. They took control and set the stage for FDR's massive victory in 1932.
Finally, the potential for narrow majorities and a lot of complicated maneuvering was set slightly more than a century ago. The 65th Congress began in 1917 with 215 Republicans, 214 Democrats and six independents.
As Historian of the House Matthew Wasniewski wrote me, the 65th Congress' Speaker's election "is one of the more interesting in the modern party period." He continued:
"On April 2, 1917, the opening day of the 65th Congress (1917–1919) Democrat Champ Clark of Missouri, won election to his fourth term as Speaker on the first ballot against Republican Leader James R. Mann of Illinois by a vote of 217 to 205.
"Though Republicans had a slender 215 to 214 plurality after the 1916 elections for the 65th Congress, there were six additional Members who belonged to third parties—and they, in combination with a small group of Republicans, swung the majority control to Democrats.
"Of the six third-party Members, four voted for Clark, along with one Republican, Thomas David Schall of Minnesota, who made the nominating speech for Clark! Mann also had to contend with other GOP defectors and absentees. Two Republicans voted for Republican Frederick H. Gillett of Massachusetts, who would become Speaker in the following Congress. Two other Republicans voted for Republican Irvine Lenroot of Wisconsin. Two additional Republicans voted "Present," two Republicans were absent, and two seats that Republicans claimed in the election were vacant—one because of a Member-elect death and the other because the Member-elect was not seated because of qualification issues."
The history of that first narrow majority might be a sobering reminder to the more conservative House Republicans: Too many games can lead to a Democrat Speaker despite the House GOP having gotten millions more votes from the American people.
I wrote this to put Speaker-designate McCarthy's Republican majority in an historic context.
It can work, it has worked in the past. It will be challenging but the challenge is certainly not unprecedented.
---
---
Newt's Latest Articles:
---
Newt's Latest Podcasts:
---
Get Newt's Latest Book: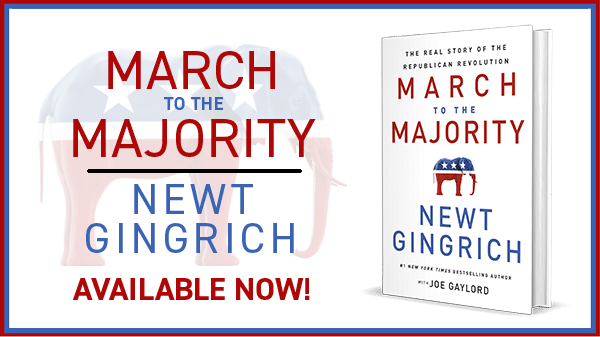 ---