It has been an exciting and productive opening month for House Republicans. They are keeping their commitments and making progress.
---
This has been an important month for the emerging role of the new House Republican majority and its leader Speaker Kevin McCarthy.
So far, they have effectively implemented their Commitment to America. The 87,000 IRS agents were voted out. The new Select Committee on China was established with a strong bipartisan vote. The Chinese Communists were blocked from getting oil from our national strategic petroleum reserve by a bipartisan majority. As they committed, Republicans removed Congressmen Adam Schiff and Eric Swalwell from the Intelligence Committee and Congresswoman Ilhan Omar from the Foreign Relations Committee. Major investigations have been launched. A serious effort is underway to develop a strategy to get back to a balanced budget.
The biggest challenge Speaker McCarthy faces in the near term is developing a responsible debt ceiling. Seventy-three percent of the American people believe it is reasonable to have spending cuts along with a debt ceiling increase – and only a small minority (26 percent) favor a debt ceiling with no spending changes. President Joe Biden's initial position that he would refuse to negotiate any conditions began to fall apart almost as soon as the White House announced it.
Democratic Sen. Joe Manchin promptly visited Speaker McCarthy to discuss possible spending cuts. Several House Democrats said they could support spending cuts.
Democrat Senate Majority Leader Chuck Schumer gave several blustering speeches attacking the House Republicans for not having a complete budget plan. Given his own record of endless, unchecked spending, his attacks sounded hollow and partisan.
As the conversation continued, Speaker McCarthy remained a serious leader seeking the national interest who was willing to negotiate early to avoid last-minute drama or crises. The White House rhetoric became more out of touch with reality.
Senate Republican Leader Mitch McConnell was deeply helpful when he publicly said Speaker McCarthy was leading the debt ceiling debate. With McConnell's endorsement, McCarthy went to the White House with a united House GOP – and the imprimatur of the longest serving leader in Senate history. McConnell's counsel and vast knowledge of prior debt ceiling negotiations will help – especially since he and then-Vice President Biden have solved them in the past.
Faced with a united GOP House-Senate team, President Biden agreed to a one-on-one meeting with Speaker McCarthy. The White House announced it was still firm for a no-strings debt ceiling increase, but the act of meeting with the Speaker signaled negotiations were going to happen.
The actual meeting lasted well over an hour – to almost everyone's surprise. The two leaders seemed to get along well. While each set out positions they knew the other would not accept, the dance of legislation began.
Speaker McCarthy came out of the meeting and engaged the eager White House press corps in a wide-ranging conversation that was entirely positive about President Biden and carefully indicated that the two had a common understanding. They needed to move forward but it would take time.
Punchbowl News captured the essence of what is going on:
"Now, after meeting with Speaker Kevin McCarthy, the White House says the president 'welcomes a separate discussion with congressional leaders about how to reduce the deficit and control the national debt while continuing to grow the economy.'
"The White House wants to rhetorically separate any discussion about the debt limit from the federal spending debate, but that's a distinction without a difference. It's clear that the two issues are linked. Biden is going to have to negotiate with Republicans – and already is.
"At the moment, Biden is showering McCarthy with praise. During a fundraiser in New York, the president called McCarthy a 'decent man.' In a speech at the National Prayer Breakfast on Thursday, Biden said both sides need to'"start treating each other with respect. That's what Kevin and I are going to do.'"
The fact is: The President and key House and Senate Democrats have developed a formula which may backfire on them. They keep saying that they are willing to cut spending and grow the economy but not on a debt ceiling bill.
The potential is emerging for the House Republicans to use the next four months to pass a bill that cuts spending and accelerates economic growth. When the President signs the new lower spending, more jobs, and smaller deficit bill, the Republicans can with good conscience pass a debt ceiling bill having already kept their commitment to the American people to begin moving back to fiscal sanity and a balanced budget.
It has been an exciting and productive opening month for House Republicans. They are keeping their commitments and making progress.
---
---
Newt's Latest Articles:
---
Newt's Latest Podcasts:
---
Get Newt's Latest Book: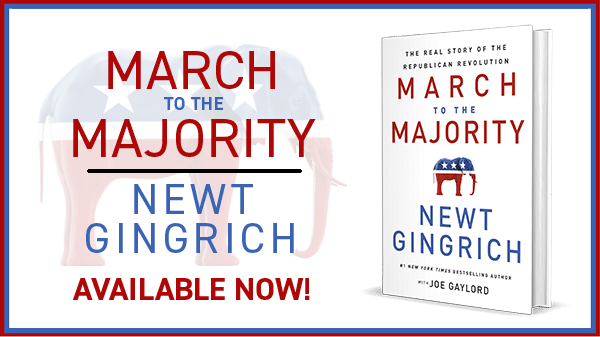 ---