Republicans across the country who want to learn how to overcome extreme Democrat positions and create a governing majority should look to Iowa for inspiration.
---
Iowa Republicans owe their Democrat colleagues a big thank you. The Democrats' extreme positions have crippled their own party's position in the state.
That's the conclusion I reached after talking with more than 30 Republican leaders during a two-day visit to the Hawkeye State.
I have been going to Iowa for nearly 40 years (including campaigning for Jack Kemp's presidential run in the 1980s and, of course, my own campaign in 2012). I have accumulated a lot of ties to the state.
My wife Callista went to Luther College in Decorah, and one of her closest friends is from Nevada, Iowa. Joe Gaylord – my political partner in developing the Contract with America with whom I just wrote "March to the Majority" – went to the University of Iowa and has been working in Iowa politics since the early 1970s. My friend, mentor, and supporter Linda Upmeyer was the first woman Speaker of the Iowa House and has a deep knowledge of the state at every level.
The Iowa we are all used to has always been politically competitive. In some ways the Democrats had an edge. While most of us think of Iowa as an agricultural state, it is also a state with a lot of manufacturing jobs and a strong labor union presence. For decades, the Democrats' advantage in the unionized towns, and their ability to raise national campaign money, matched the Republican advantage in rural Iowa. This has all changed dramatically.
Today, Iowa Republicans have the governorship, both U.S. Senate seats, and all four U.S. House seats in Washington. (After the 2018 election, there was only one GOP House member from Iowa). In Des Moines, Republicans also have massive majorities in the State House (64-36) and State Senate (34-16).
The shift has been decisive. In 2012, when I ran for president, the Democrats had a 20,000-voter advantage (694,252 to 674,197). This year, there is a Republican advantage of 72,500 (752,339 to 679,847). That is a 92,000-voter registration swing from the Democrats to the Republicans.
Part of the change has come from having a remarkable governor who is dedicated to reforming state government. Gov. Kim Reynolds has combined a winning personality, an intelligent approach to issues, and a lot of courage to create deeply effective leadership in Iowa. She has been a significant part of the state GOP's growth – and the Democrats' decline.
The Iowa Republican Party has also had strong U.S. Senators in Chuck Grassley (first elected to the Senate in 1980 and once again decisively re-elected) and Joni Ernst (who keeps growing in strength and reputation). There has also been a dedicated professional organization in the Iowa GOP. Working with the state legislators, Republican activists have methodically targeted Democrat seats and won them.
I recently talked with former Iowa Gov. Terry Branstad. He is the longest serving governor in American history, with more than 22 years in the Iowa governor's office. I asked him what he thought has been happening in Iowa to cause the shift. He had a thorough explanation.
"The Democrats have lost their way. They have become extremely liberal and focused on pleasing the coastal elites and getting money from [George] Soros and other elitists – but that doesn't make radicalism acceptable," he said. "Working people have become Republican, and we can now recruit candidates in towns and counties where we simply were not competitive 10 years ago."
Second, Gov. Branstad said the Iowa GOP had great leadership in Jeff Kaufman and has really focused on teamwork. The party has also recruited strong candidates from all across the state.
Finally, he pointed out that, "the Democrats abandoning the presidential caucus will further undermine their party in Iowa as Republican presidential candidates come to town, and no one comes from the Democratic Party."
When I asked him about reports that Gov. Reynolds could be a potential running mate for President Donald Trump in 2024, Branstad said, "she would be a great vice presidential candidate, but we don't want to lose her in Iowa." That was a sentiment I heard from virtually every Iowa Republican I asked.
Republicans across the country who want to learn how to overcome extreme Democrat positions and create a governing majority should look to Iowa for inspiration.
---
---
---
Newt's Latest Articles:
---
Newt's Latest Podcasts:
---
Get Newt's Latest Book: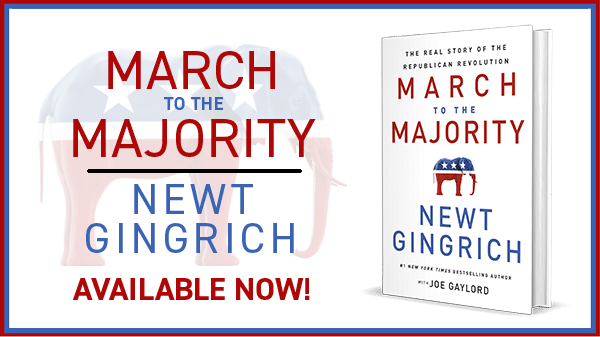 ---