Title IX dramatically increased opportunities for girls and women in sports and in other aspects of American life. All that progress is now being threatened.
---
This Thursday Americans will have an opportunity to see just how extreme the House Democrats have become. Congressman Greg Steube's "Protection of Women and Girls in Sports Act" (HR 734) will come up for a vote just before members go home.
How many members will vote against opportunity for women and girls to compete without having their life's efforts destroyed by men who decide they are female?
This could become a Bud Light moment for the Democrats.
The American people rebelled against Anheuser-Busch for using so-called trans-influencer Dylan Mulvaney as a symbol of supposed inclusiveness. The Bud Light audiences' response was catastrophic for the beer maker. Many restaurants and bars stopped serving Bud Light. Sales dropped enough that Budweiser has lost $4 billion to $6 billion in market value.
The American people's intense reaction to the pressures to accept transgenderism at every level should not come as a surprise. When the America's New Majority Project asked Americans how they feel about the left's efforts to replace sexual identity with cultural gender, the results were pretty straight forward.
Seventy-three percent believe a teacher or school should notify parents if a child says he or she wants to identify as the opposite gender. Seventy-three percent also disagree with those who say that children should be able to receive so-called gender affirming care without the permission of parents. Further, 72 percent oppose schools teaching children they can change their gender, and 71 percent favor banning surgery on children to transition them from one gender to another. In fact, 67 percent do not want teachers in kindergarten through third grade discussing gender identity with their students at all. Finally, 60 percent say it is a form of child abuse if a teacher or school encourages a child to change his or her gender identity.
For some reason, President Joe Biden and his administration have sided consistently with the transgender activists – despite the widespread opposition of the American people. On April 6, the Biden administration released a proposed pro-transgender regulation which would effectively undo Title IX, which established protections for women's sports.
As U.S. House Committee on Education and the Workforce Chairwoman Virginia Foxx said, "It destroys a level playing field and makes women second class citizens in their own sports."
Title IX was part of a landmark 1972 civil rights bill which dramatically increased opportunities for girls and women in sports and in other aspects of American life. Since its adoption a half century ago, as Chairwoman Foxx pointed out, "female participation in sports has increased 1,057 percent at the high school level and 614 percent at the postsecondary level."
All that progress is now threatened.
The threat of transgender males dominating female sports is real. As Sen. Tommy Tuberville wrote for the National Review, "Biological men have won 28 women's sports titles since 2003. This number will only increase when the boundaries are completely removed." Sen. Tuberville has introduced the Protection of Women and Girls in Sports Act in the Senate to preserve Title IX protections and ban biological males from participating in women's sports.
Chairwoman Foxx is clear about the threat in the committee's report on the bill: "Ignoring the biological differences between men and women is a catastrophe for women."
House Speaker Kevin McCarthy has also been clear about how serious he is about protecting women's athletics. He hosted several female athletes at the U.S. Capitol on Girls & Women in Sports Day to hear their concerns about threats to Title IX. He said then, "I commit to them and to you—I will always stand up for a level playing field for women in sports."
The House has an opportunity to defend opportunities for girls and women. It is clear where the American people are on this issue. Now, we will learn whether House Democrats will side with the people who elect them – or with extreme transgender activists who want impose their agenda on the country.
Thursday is a important vote. It will set the stage for the Senate to act on Sen. Tuberville's legislation. It will also send a strong signal to the Biden administration that the extreme activists are in direct conflict with most Americans.
---
---
---
Newt's Latest Articles:
---
Newt's Latest Podcasts:
---
Get Newt's Latest Book: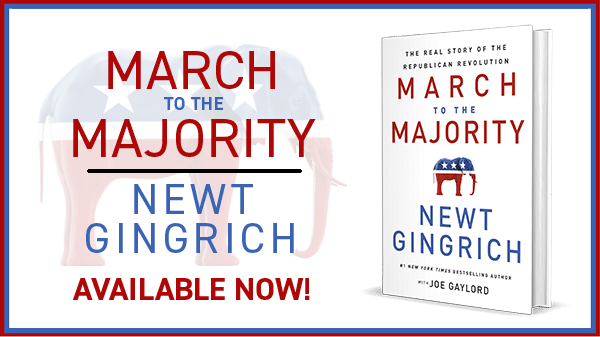 ---