This last week reasserted and solidified Speaker McCarthy's ability to lead the House.
---
When it took Kevin McCarthy 15 votes to become Speaker of the House, the Washington establishment concluded that he was pleasant but would be unable to get much done.
The fate of the last two Republican speakers, John Boehner and Paul Ryan, seemed to hang over his head. They had not been able to unify the House Republicans even when they had much larger majorities than McCarthy's tiny four-vote margin (the same margin with which Speaker Nancy Pelosi had dominated for the last two years they fail to note). Furthermore, Boehner and Ryan found themselves in a constant running war with the right wing of their conference – and especially with the Freedom Caucus.
Speaker McCarthy has brought together the Republican Conference and has been much more bipartisan than Speaker Pelosi ever dreamed of. In the first 40 bills passed by the Republican House 86 percent attracted Democrat votes. On several occasions, most of the Democrats voted with the Republicans.
This last week should put to rest any doubts about Speaker McCarthy's ability to lead the House. In one short week the House:
On Wednesday had a bipartisan briefing on artificial intelligence hosted by both Speaker McCarthy and Minority Leader Hakeem Jeffries and presented by professors from MIT. This was a follow on to a briefing at MIT last year, when McCarthy took intelligence and Armed Services Committee Republicans to MIT for a briefing on artificial intelligence.
That 90-minute briefing occurred as Republicans were putting the finishing touches on their debt ceiling and savings legislation. They had to iron out two glitches since the Democrats were likely to unanimously oppose the bill. It had to be passed with only Republican votes. In fact, with four hardcore anti-McCarthy votes (minuscule compared to the Boehner-Ryan problems), the House GOP prevailed 217-215. They achieved a $4.1 trillion dollar spending cut in the debt ceiling increase.
This insistence on spending cuts almost exactly mirrors the belief of the American people. Only 24 percent agree with President Joe Biden's demand for a debt ceiling increase with no cuts. Some 46 percent will accept a debt ceiling increase but only with spending cuts. A stunning 16 percent would risk default and oppose any debt ceiling increase because they oppose any more borrowing.
President Biden is in the distinct minority by refusing to cut spending, and his position on not negotiating is a hopeless minority. The American people expect their elected officials to get together. Biden and Senate Majority Leader Chuck Schumer will soon find themselves under more pressure to negotiate.
Through several months of planning, listening, and developing a debt ceiling with cuts acceptable to the House GOP, Speaker McCarthy is now the only Washington leader who has passed a bill which would avoid default. Sen. Schumer will presently discover that he could not possibly pass President Biden's debt ceiling with no cuts.
The House Republicans have set the stage for a remarkable conservative victory on the debt ceiling – and made the first step toward balancing the budget.
While Republican Whip Tom Emmer's effective organization was rounding up the vote on the debt ceiling, Speaker McCarthy was welcoming President Yoon of South Korea for an hour-long, remarkably pro-American address to the Joint Session of Congress.
Then, McCarthy led a bipartisan delegation to Israel, where he will become the first Speaker to address the Knesset in 25 years. He will be celebrating the 75th anniversary of the foundation of Israel. I have deep emotions about this moment, because I was the only other speaker to address the Knesset. When I did it, we were celebrating the 50th anniversary of the foundation of Israel.
Typical of McCarthy's strategic goals, the congressional delegation he is leading is bipartisan. Indeed, it is one-third Democrat. Symbolically, the delegation includes Reps. Josh Gottheimer (D-N.J.) and Brian Fitzpatrick (R-Penn.), the co-chairs of the Problem Solvers Caucus.
Speaker McCarthy previously took a bipartisan group of House members to the Reagan Library to meet with the President of Taiwan.
The contrast between Speaker Pelosi and Speaker McCarthy could not be clearer. When she went to Taiwan, she took only Democrats. When she went to Poland and Ukraine, she only took Democrats. When she went to Israel and Germany, she only took Democrats. When she went to Great Britain, she only took Democrats.
As one of the Speaker's staff wrote me recently. "McCarthy is truly striving to be Speaker of the WHOLE House."
As Ben Domenech summarized in The Transom, "Kevin McCarthy is proving his worth."
This was the week these sentiments became indisputable.
---
---
---
Newt's Latest Articles:
---
Newt's Latest Podcasts:
---
Get Newt's Latest Book: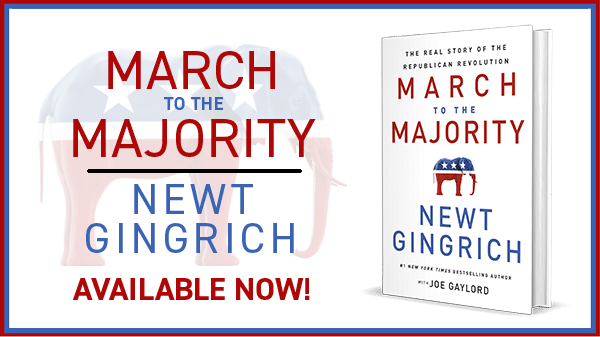 ---