---
---
NEWT:
I think a very interesting challenge last night you can't tell whether they really underestimated size of number of people who are going to come to Twitter or whether some folks who work for Elon Musk were happy to have it crash because it is after all a pretty left wing employee group probably pretty anti DeSantis probably wasn't the best send-off DeSantis could have hoped for in terms of running. He's a very smart guy, he has been a remarkably good governor of Florida, last night did not reflect any of those positive skills.
NEWT:
I think part of the challenge is that even for a state as big as Florida, running for governor is a different league than running for president. And to run for president against Donald Trump, has in the past not been a very positive experience for Republicans. There were 15 other people in the race in 2015, 2016 not a single one of them grew. Look as Jeb Bush was the everyone assumed was probable nominee, and he shrank dramatically, look John Kasich, you go down the list. Trump is a very formidable competitor. And frankly the Durham report which indicated so clearly that the FBI and justice department the intelligence community and the news media were all dishonest and corrupt about Russian issue in 2016 that tremendously helped Trump because it allows him to wave that report and say don't believe me look what John Durham said recognize much stuff told has been a lie. So, I think that is part of why you see Trump come back, the other part frankly is as Biden fails, the Trump years look better and better. The dilemma for Governor DeSantis or any other candidate is sooner or later you have to take Trump head-on. The probably is the people for Trump are really for Trump, so, I may in fact be alienating the very voters you want when you do that. I think three polls out this morning all three polls should trump 30 points ahead. And I would say, by the way, I think Ramaswamy may be most interesting new candidate because he is in Trump tradition of being a complete outsider able to speak his mind, able to be risk taking, and you watch him he is rising in the polls, this is a race for third place, he is pretty close to governor to vice president Pence in that race.
NEWT:
Well I mean first of all. I think the — the Harvard poll for example that just came out shows Trump winning by 8 points, here is problem this what makes debt ceiling negotiations so interesting in terms what have you reported a few minutes ago the federal reserve raising interest rates affects the private sector it doesn't affect government spending what the house Republicans and speaker McCarthy are doing is the parallel, to what the fed is doing .They are saying to the government you got to slow down your spending, in order to reduce inflation. Now in that kind of a setting, if the fight becomes about inflation the border, crime, exactly things governor DeSantis mentioned, Biden is in deep trouble, and, frankly, he's in so much trouble right now — I think by late this year see people saying he should not run on his own party, you are going to see whether it's Robert Kennedy, Jr., or somebody else give a serious race if primary next spring because he is going to be unacceptable.
NEWT:
I this the people in the White House are delusional I think completely misunderstood the country the Fox poll this morning showed that something like, 70% country is opposed to raising the debt ceiling without spending cuts, I mean, you know, so I think, they can try it and they will fail just as failing at governing the country.
---
Get Newt's Latest Book: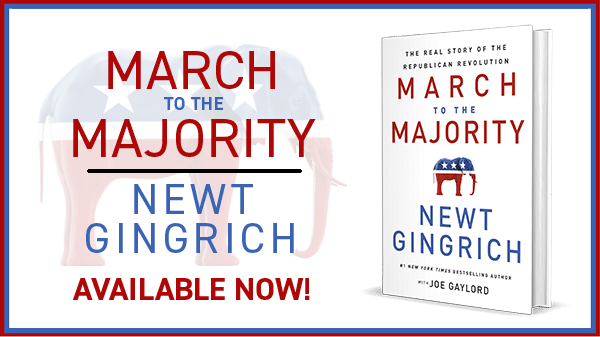 ---
---
More from the Gingrich 360 Team: