---
---
NEWT:
That may educate the country. That certainly implies self-incrimination, although the Fifth Amendment is designed to protect you from being forced to incriminate yourself. But I suspect his attorney will say on almost every question, take the fifth. I think second, there are a number of questions, and Chairman Comer has done a very good job of moving in the right direction. So have the Judiciary Committee and the Ways and Means Committee. We know much more today than we did two or three months ago. But I'll just give you one example. There's a phone call from Dubai that is listed as to a D.C. source. We don't know what it is. There is a phone which apparently was paid for by Hunter Biden's company, which Joe Biden was using outside of Secret Service and other White House records. There is evidence that Biden went to Kiev to give a speech specifically threatening $1,000,000,000 of taxpayer money if the Ukrainians did not fire the prosecutor who was looking into Burisma, the company that had hired Hunter Biden. Now, that's not about building the brand. That's straight out bribery. But we need to subpoena the telephone. We need to subpoena the records of the people who were actually in Dubai. We need to subpoena the speechwriters scripts to find out when did they add the attack to the speech in Kiev? And when was this part of it? But frankly, there is an example where Joe Biden, using the power of the vice presidency, using your tax money, threatening $1,000,000,000 in aid to Ukraine, is directly helping his son's company. Now, that's that's a potentially straight out bribery, which is one of the Constitution's examples of the legitimacy of impeachment. So the Constitution mentions bribery. I think that all has to be subpoenaed. It all has to be reviewed. And we need to get it out in the open. Then we need to bring them in when we have absolute evidence. And they can't just bob and weave, but they're faced with the reality of their criminal acts.
NEWT:
No. I think that President Trump's got enormous strengths, but his occasional off the cuff attacks aren't part of those strengths. I think he'd be much better off to elevate the campaign to a serious choice for the American people. Now, this most recent example where Biden has approved giving the Iranian dictatorship $6 billion in order to get five Americans released, that would be a good, legitimate fight because Trump got hostages released without ever paying the people holding them hostage. And there's a clear contrast. I think Trump's much better off to elevate his campaign and not just rely on the kind of off the cuff language that he's used, also, for example, against Chris Christie. This kind of nasty personal attacks may feel good to Trump partizans, but they alienate the independent voters that Trump is going to need to win a general election. At this point, it looks like Trump's running away with the nomination is a bit premature to say that. No, I think well, look, when you have the kind of lead he has, you are almost the presumptive nominee. And if he gets through New Hampshire, Iowa, Nevada and South Carolina, this race could be over by early March. And he would then be able to spend all the rest of the year drawing a sharp contrast with the failures of the Biden administration. But I think the more he does that on policy grounds and on the quality of life of the American people, and the less he does it with these kind of personal attacks, the stronger he will be.
NEWT:
I listened to that. I couldn't help but laughing.
Get Newt's Latest Book: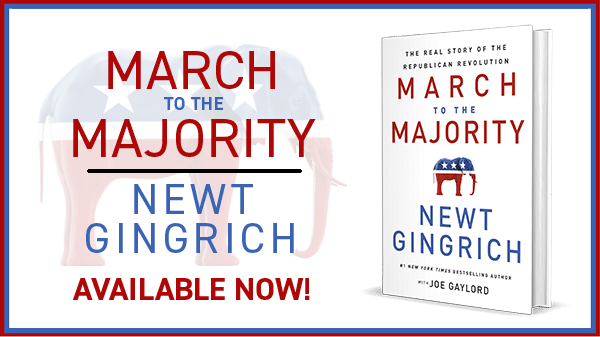 ---
---
More from the Gingrich 360 Team: