---
---
NEWT:
Well, I think what you're seeing tonight is one tree in a forest. And I think we are drifting towards the greatest constitutional crisis since the 1850s and the rise of secession and the Civil War. I don't mean that as hyperbole. If you read Andy McCarthy's remarkable book, Ball of Collusion, which came out in 2019, he makes very clear that it is Barack Obama who corrupts the Justice Department. It is Hillary Clinton who routinely breaks the law and gets away with it. And now we have Joe Biden, who's learned he's learned from Obama. that it doesn't matter what you do if you're a liberal Democrat, you will not be prosecuted. He learned from Hillary that a person in high public office can get millions and millions of dollars and they learn from watching Donald Trump that a true outsider willing to take on the entire system could destroy their entire machine. So what you're seeing across the country is a desperate last ditch effort by a corrupt machine to destroy their most dangerous opponent in a way which not only breaks the Constitution, destroys the rule of law, and establishes a moment of bitterness, which I think will last for a generation or more. I think this is going to be a horrendous period, and we just need to understand the people who want to control America and dictate to the rest of us will break any law. Lie about any topic and manipulate the system any way they can. And that includes a lot of the elite news media.
NEWT:
You know, what his enemies don't understand is that Donald Trump's not a candidate. He is the personification of a national movement. That's what you saw when the two governors went to the racetrack the other night in Iowa and people began booing, both of them, including the very popular governor of Iowa. That's what you saw at the state fair. You weren't seeing a normal candidate. You were seeing a person who personifies for 45 or 50% of the country their hope that they can save the country from what they see as a stunningly corrupt bad machine trying to control their lives. So let me give an example. In 1978, when I was running and finally winning after two defeats, Dick Cheney was running for the first time in Wyoming. He had a heart attack. His wife helped invent Cardiacs for Cheney. And so people had heart problems all over Wyoming began campaigning for Dick because he was in a hospital recovering. I think if they had Donald Trump locked into a room, they're going to find five, ten, 15 million Americans willing to campaign as Trump surrogates, willing to go out there and say, I'm going to work for him because I'm not going to let him be defeated by a totally corrupt person. But I'll go a step further. I really believe that the Republicans in the House should cut off Jack Smith's money. I think that his last day on the payroll should be September 30th. They should do whatever it takes to close down this entire anti-Constitutional, ruthless breaking of the law in the most despicable. I think this is so dangerous to the very survival of the republic that it has to be stopped.
NEWT:
Sure. Look, I didn't. You're making it too complicated. They're crooks. They lie since they're crooks and they lie. Well, you just describe what crooks who are lying. Now, the problem for the American people is we really can't quite believe that people in public office I mean, Hillary is the same way Hillary made $37 million as secretary of state by selling 20% of America's uranium to a Russian company which gave the Clinton Foundation $37 million. They just lie. These people are bad people doing bad things. And that's why we're headed towards the greatest constitutional crisis since the Civil War, because at least half the country now, despite every effort of The New York Times and every effort of The Washington Post and every effort of the big networks, the country itself is beginning to come to grips with the fact that they have in the White House a corrupt family which has been willing to sell out America to China, Russia, Ukraine, Romania, Kazakhstan, and then lie about it.
NEWT:
Sean, you know I love you. You know, we have a great, wonderful friendship. But. But. But yeah. Like almost every American, you keep coming back and describing this as though it's complicated and as though it's difficult to understand. This is a this is a drama. It's a Greek tragedy. What we have is a system. The current president, President Obama, Secretary of State Hillary Clinton, leaders in the Justice Department, leaders in the FBI, leaders in some of our major news media. And this system is corrupt. Now, everything you just described is perfect, isn't it? If you start in the morning and say, gee, I wonder what the corrupt system did today, one to protect itself, and two, to try to destroy its major opponent the rest of the days works out pretty well. You understand exactly what's happening. It's not complicated. It's just bad and it's scary. And it should scare us because it threatens the very fabric of the American constitutional system.
NEWT:
Look, look, there's a there's a simple test challenge the challenge these left wing crazies to try Donald Trump in West Virginia. Now, if it's okay to try him in D.C. where he got 5% of the vote, why isn't it okay to try him in West Virginia where he got 70%? And, of course, none of them would want to try him in West Virginia, because you could never convict him. Period. And the fact is, the average American knows if you're in a jury pool, which was 19 to 1 for Biden over Trump, that is not a fair jury. That's not an honest jury. That's not a jury of your peers. That is a rigged game by a really bad person. Remember, Jack Smith was repudiated unanimously by the Supreme Court for destroying Governor Bob McDonald. He literally changed the law in order to destroy Governor McDonald and the Supreme Court repudiated. Didn't help McDonnell he was out of office. He had already been smeared. But this is the guy they chose. And then he chose D.C. at 19 to 1 against Trump in order to try this case. It just tells you that this is a corrupt system doing corrupt things. And frankly, I think Republicans are going to have to have the guts to stand up and say, no, this is over and the first place to do that is the budget started and just cut off the money on September 30th.
Get Newt's Latest Book: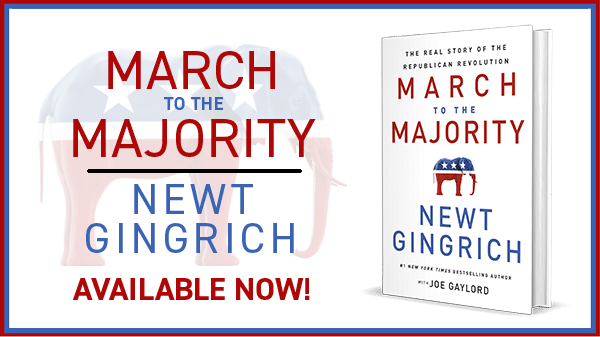 ---
---
More from the Gingrich 360 Team: