Speaker Newt Gingrich is Chairman of Gingrich 360, a multimedia production and consulting company based in Arlington, Virginia.  As former Speaker of the House of Representatives, Gingrich is well known as the architect of the "Contract with America" that led the Republican Party to victory in 1994, creating the first conservative majority in the House in 40 years.  He was a Republican candidate for President of the United States in 2012.
Gingrich is a Fox News contributor, podcast host (Newt's World), and syndicated columnist.  He is the author of 40 books, including 18 fiction and nonfiction New York Times bestsellers.  His latest books include Trump and the American Future: Solving the Great Problems of Our Time and Shakedown.
Gingrich and his wife, Ambassador Callista L. Gingrich, host and produce historical and public policy documentaries.  Recent films include "The First American" and "Divine Mercy: The Canonization of John Paul II."
Recognized internationally as an expert on world history, military issues, and international affairs, Newt Gingrich is the longest-serving teacher of the Joint War Fighting course for Major Generals.  He also teaches officers from all six services as a Distinguished Visiting Scholar and Professor at the National Defense University.  In addition, Newt Gingrich served as a Member of the Defense Policy Board.  He was a member of the Terrorism Task Force for the Council on Foreign Relations, and he co-chaired the Task Force on United Nations Reform, a bipartisan congressional effort to modernize and improve the United Nations.
The Gingrich's reside in McLean, Virginia, and have two daughters and two grandchildren.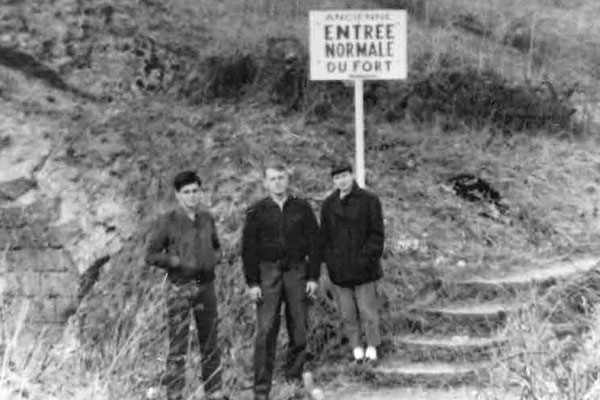 When Newt was 16 living in Orleans, France, he visited the site of the battle of Verdun, a World War I battlefield where 300,000 soldiers died.  It was at this moment that he realized that nations can die and be defeated.  This was the start of his lifelong pursuit to ensure the survival of America.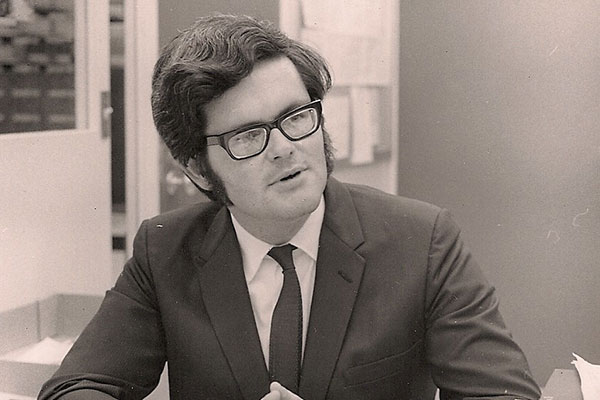 Newt graduated with a Bachelor's degree in history from Emory University in 1965 (after taking 1964 off to assist the campaign of Jack Prince, who challenged Democrat Phil Landrum for Georgia's 9th Congressional District).  Newt later went on to receive a Master's and Doctorate in Modern European History from Tulane University in 1971.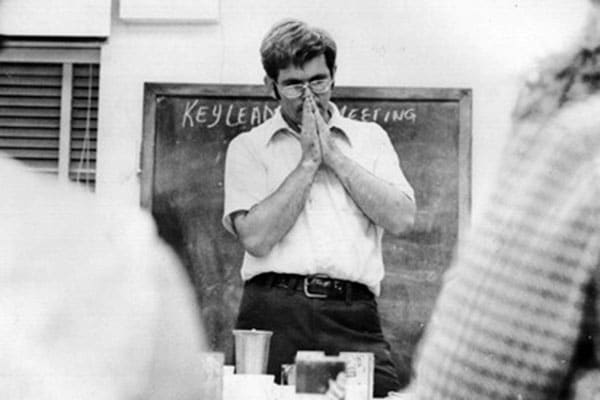 In 1970, Newt began working as an associate professor of geography and history at West Georgia College in Carrollton, Georgia.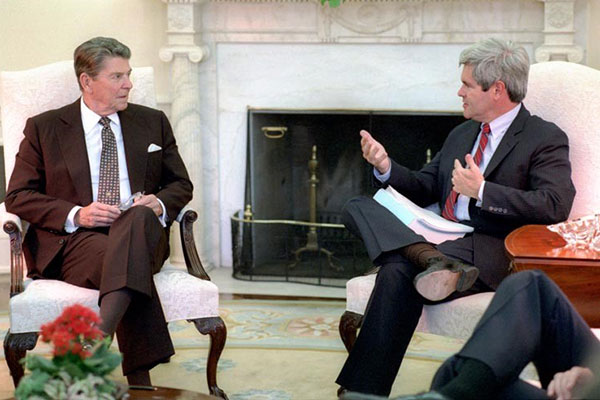 In the early party of his Congressional career, Newt quickly climbed his way to the upper echelons of Republicans leadership by refusing to accept that Republicans were destined to be the minority in the House.  He quickly began working with President Ronald Reagan to bring about real, positive change in America.
(Photo: Reagan Library)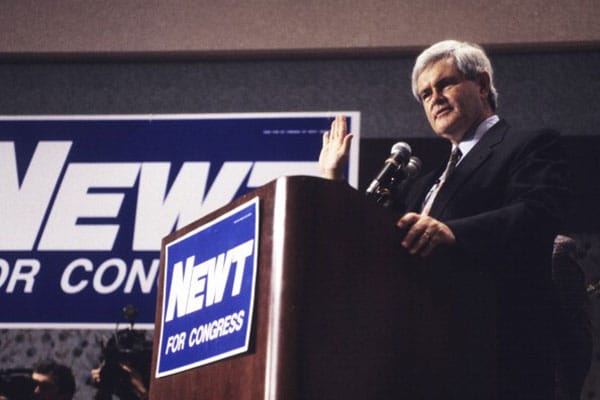 Newt was re-elected ten more times to serve in Congress, surviving numerous challenges, and Congressional redistricting.  A core goal throughout his service was to help Republicans attain and keep the majority in the House of Representatives.
(Photo: Getty Images)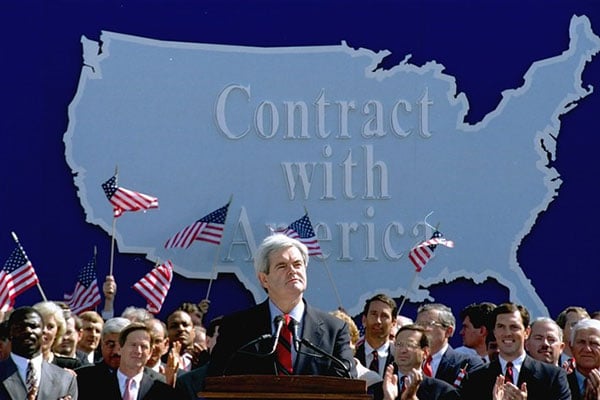 On September 27, 1994, Newt and more than 350 other Congressional candidates signed the Contract with America on the steps of the U.S. Capitol.  The Contract was a pledge to all Americans that the signers would vote for 10 popular reforms if Republicans were elected to the House majority.  It worked. Republicans took control of the House for the first time in 40 years.  It became known as the 1994 Republican Revolution.  They immediately began work passing the reforms.
(Photo: AP)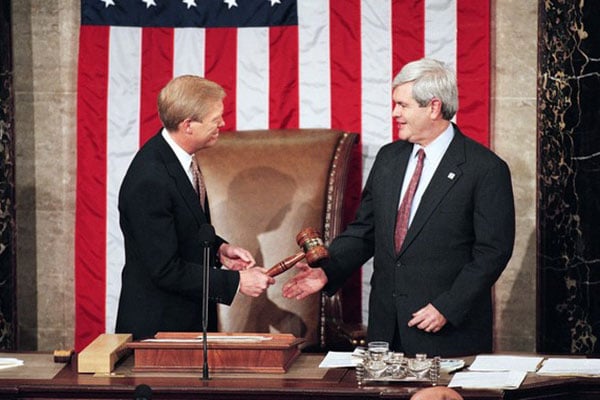 The success of the Contract with America and the Republican majority earned Newt the honor of serving as Speaker of the U.S. House of Representatives from 1995 to 1999.  As Speaker, Newt was the chief Republican negotiator with the Bill Clinton Administration, bringing about the first balance budgets in our lifetime and the passage of many bipartisan reforms to welfare and government spending.
(Photo: Getty Images)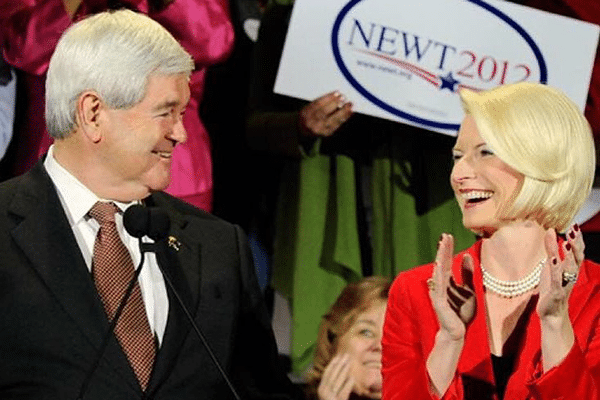 In 2012, Newt ran for U.S. president, with a message that focused on balanced budgets, individual liberties, domestic energy production, and reforming big government programs.  He won the Republican primaries in South Carolina and Georgia.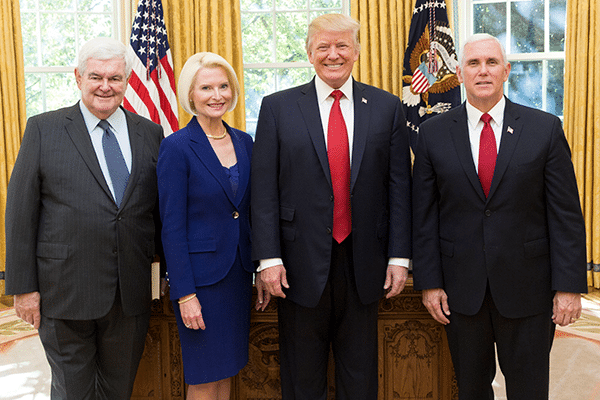 During the 2016 Presidential election, Newt was a supporter and strategic advisor to then-candidate Donald Trump.  After Trump won the election, Newt has been recognized as a trusted confidant of President Trump and his administration.
(Photo: Getty Images)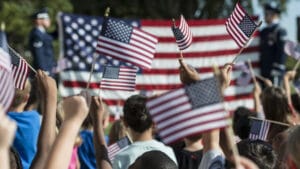 We partnered with the Winston Group and McLaughlin & Associates to conduct a series of in depth focus groups, nationwide surveys, and intense studies to identify precisely what Americans are most concerned about – and how our leaders can help solve America's greatest problems.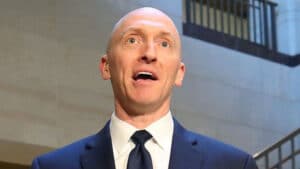 Carter Page is an exemplary American citizen. A graduate of the US Naval Academy, Page served in the Navy before becoming a successful businessman. He even served his country clandestinely as a source for America's intelligence community. But all of that work was not enough to protect Page when he supported Donald Trump for president in 2016.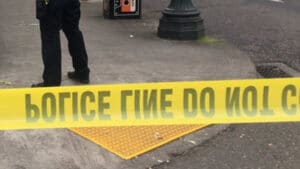 Many of the violent mobs tearing down our cities are doing so in opposition to systemic problems in our criminal justice system. There is a systemic problem, but it is not racism. The problem is rising pro-criminal, anti-police Democratic leadership.