Balancing the budget, cutting bureaucracy, and eliminating unnecessary red tape could create a whole new rebirth of entrepreneurs and small businesses.
---
I was shocked to discover that some Republicans had cosponsored a truly radical, so-called civics bill designed to force every public school to teach racist leftwing propaganda.
As I said on "The Ingraham Angle," the bill is totally crazy. No Republican should support it. In fact, every Republican should oppose it severely. This bill would open the door to allowing the federal bureaucracy to decide civics curriculum in states and school districts across the country. This means unelected federal employees would be able to overrule and dictate to parents, teachers, and school board members what children in their communities are learning.
Remember the fights over Common Core and CRT? This is the same fight with a different name. It is exactly the kind of thing I expect from the Big Government Socialists in Washington, who would gladly make all our decisions for us. But I was astonished that there were Republicans who cosponsored the bill.
As I said to Laura Ingraham, people should call their House and Senate members and demand that they stop this outrageous effort to undermine patriotism, divide America by race, and force children to be brainwashed into adopting leftwing values.
Don't take my word for how bad this bill is. Here is the explanation by Stanley Kurtz, one of the leading analysts of education policy, writing in National Review:
"The misleadingly named 'Civics Secures Democracy Act' (CSDA) — just now reintroduced in Congress — will allow the Biden administration to push Critical Race Theory (CRT) on every public school in the country. Over a six-year period, this $6 billion pot of competitive grant money will create a de facto national curriculum — just like Common Core. States desperate to tap into the federal gravy train will have to tailor their civics and history grant proposals to the Biden administration's liking. And abundant evidence shows that Biden's Education Department is pushing CRT. So why are some Republican senators eager to help Biden spread CRT? I can't think of a quicker way to devastate Republican enthusiasm just before the midterms."
Kurtz went on to call the bill "education madness and political suicide all wrapped up in one." He also said it was "the most pernicious federal education legislation [he's] ever seen."
This bill first emerged a year ago, and the National Association of Scholars, a group of leading conservative intellectuals, wrote Sen. John Cornyn and Rep. Tom Cole a letter opposing the bill. They asserted:
"We urge you to withdraw your support for the Civics Secures Democracy Act. Recent actions by the Biden Administration will prevent this legislation from supporting impartial civics education and will instead direct the funds it authorizes to subsidize ideologically partisan political activism. We believe you can best achieve your original aims to support impartial civics education by rescinding your support for this legislation."
They went on to write:
"It will provide vast federal funding for this radical program and it will impose enormous political pressure on the states to do the same. Just as the Education Department's Race to the Top Fund gave the cash-strapped states an irresistible incentive to adopt Common Core, and thereby imposed de facto federal control on state standards and curriculum, so the Civics Secures Democracy Act will give the federal government de facto power to impose Action Civics and Critical Race Theory on the states."
Now, as a historian – and a former professor – I completely agree that every American student should learn and understand civics and American history by the time they graduate high school. I would broadly support funding for such education legislation provided parents, teachers, and school systems could develop curriculum free of federal government overlords.
The question I have is: How could anyone possibly believe the Biden administration would permit accurate teaching of an honest account of American history?
Any senator who is in doubt should look at House Conference Chair Elise Stefanik's report on local school indoctrination. She wrote in a recent op-ed with Christopher Rufo:
"[The Left's] playbook is to deflect, label the existence of CRT in elementary and secondary classrooms as a right-wing conspiracy theory, and assert their denial as an unquestionable fact."
They went on to assert:
"Yet look no further than Monroe County, where West Irondequoit Central School District students were required to participate in an anti-racist curriculum project to learn of 'the contemporary realities of structural racism.' Earlier this school year, students at the Lower Manhattan Community School were segregated by race in order to 'undo the legacy of racism and oppression in this country that impacts or school community.' Make no mistake, dividing and defining students by their race is state-sanctioned racism."
If anyone still doubts the depth of leftwing fanaticism being embedded by the Biden administration, read The Washington Times report on what's happening at one of our premier military academies:
"West Point cadets have been taught that 'whiteness' connotes 'race privilege' and 'structural advantage' as part of instructions based on critical race theory, according to newly revealed documents and course materials from the military academy.
"Among the trove of documents — which were handed over to Judicial Watch after a public records lawsuit — are presentation slides instructing cadets that 'in order to understand racial inequality and slavery, it is first necessary to address whiteness.'
"According to the course material 'Whiteness, is a standpoint or place from which white people look at themselves and the rest of society,' and refers to 'a set of cultural practices that are usually unmarked and unnamed.'
"Another slide that contains a graphic that reads: 'MODERN DAY SLAVERY IN THE USA' instructs students on the disparities between Black people and White people."
This racist indoctrination is being done at our oldest military academy to young people who have signed up to defend America.
Given the Big Government Socialist values of the teachers' unions, the schools of education, the educational bureaucracy, and the activists in the Biden administration, how could any Republican want to give them $6.1 billion to further indoctrinate young Americans?
Call your House and Senate members and demand that they oppose and stop this unbelievably destructive civics bill – before it is too late.
---
---
Newt's Latest Articles:
---
Newt's Latest Podcasts:
---
Get Newt's Latest Book: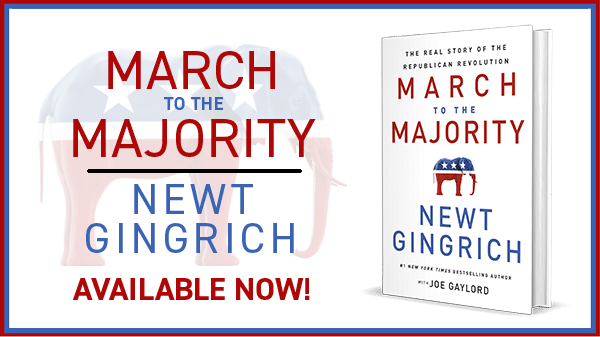 ---