Kevin McCarthy's speakership will be an American speakership that fights for the beliefs and values of the American people.
---
Callista and I sat up until 1:40 a.m. Saturday morning watching the 15th ballot for the U.S. House speakership.
We observed Hakim Jeffries' pathetic, partisan baloney. His grandstanding minimized the dignity and collegiality which should be part of the transfer of power in the House.
By contrast, I thought back to the dignity and warmth with which Democrat Leader Dick Gephardt acknowledged that we had won for the first time in 40 years and passed the gavel in fitting, reverent gesture.
Then, we listened with growing admiration as Speaker Kevin McCarthy delivered an historic address. I realize his speech came too late in the evening for most Americans to have heard it live. However, it is so important I urge you to go to C-Span and watch it (not read it). His sincere delivery and the depth of his historic understanding of America were remarkable.
This was a unifying speech by a leader who understood that the Speaker is the only legislative leader identified in the U.S. Constitution.
The House should be "the people's House," and it should be led in the tradition of President Abraham Lincoln's call for government of the people, by the people, and for the people.
From the start, Speaker McCarthy began describing an American way to govern – not a Republican nor a factional way. He said:
"It's nighttime here in Washington, but in some ways it's also like a new beginning – a fresh start, My friends, this chamber is now fully open for all Americans to visit. I want to give all Americans a personal invitation: You are welcome to see this body at work. No longer will the doors be closed. But the debates will be open for you to witness what happens in the People's House.
"From the committee rooms to this floor, we commit to pursue the truth passionately and embrace debate. No more one-sided inquiries. Competing ideas will be put to the test in public so that the best ideas win. But we also pledge to bring Congress to the people. Because answers have not and will not always be found in Washington. That's why one of our very first hearings will be held on the southern border. No more ignoring a crisis of safety and sovereignty."
Speaker McCarthy then remarkably deviated from the prepared speech and began revealing his deepest passion and commitment as a citizen.
"My most favorite spot in this building is not in this chamber. It's in the chamber [where] they met before, in Statuary Hall. It's my favorite place to take people on a tour. You see, it's where Abraham Lincoln served. 
"Just a one-term congressman, sat in the back. I like to go to that spot, and I like to stand where he stood. I like to do it at night when people aren't around. I like to look over and look at the clock. Because that's the same clock and same view that Abraham Lincoln saw. 
"I've watched Lincoln serve in the greatest challenge to our constitution, the Civil War. I watched him take peoples who were rivals and put them together. I watched in a time that he did not know if a nation could sustain itself. But he dreamt of a future and built a railroad across the nation. I want us to all take a moment, one time that you were here. I want you to stand there. I want you to look. And I want you to think: If America could do it then, we can do it now one more time.
"You know, Abraham Lincoln gave his life and service to this country. One of his most important observations about America applies today. As much as it did 160 years ago. He said we are striving to maintain the government and institutions of our fathers and to transmit them to our children – and our children's children's forever.
"My fellow Americans, that is still our mission today. This moment calls for restoring trust within our country and with each other. In that spirit, I will work with anyone and everyone who shares our passion to deliver a better future for the nation. I hope you'll join me.
"As a Congress, we can only operate if we cooperate. My door will be open. I'd like you to come by."
I urge you to watch the whole speech. After discussing the importance of Lincoln, Speaker McCarthy gave an emotional, powerful interpretation of the painting of Washington crossing the Delaware and the lessons every American can take from that time of patriotism.
This is going to be a very different and more consequential speakership than anyone currently imagines. And it is going to be an American speakership fighting for the beliefs and values of the American people.
---
---
Newt's Latest Articles:
---
Newt's Latest Podcasts:
---
Get Newt's Latest Book: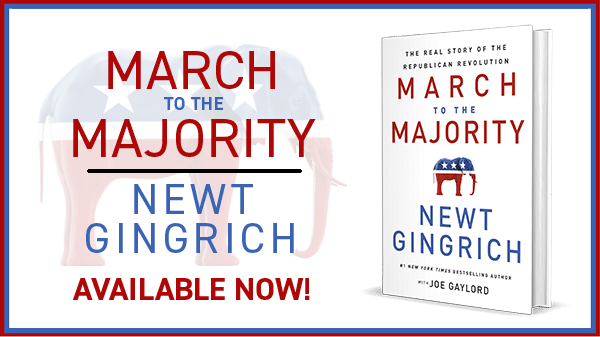 ---