Tuesday night was a weak night for President Biden and a great night for Governor Sanders. She is a rising star. He is an old star and fading into obscurity.
---
The big event for me last night was Arkansas Gov. Sarah Huckabee Sanders' amazing response to President Joe Biden's State of the Union.
I've seen numerous State of the Union responses over the years. It is a difficult job because the president has the pageantry of the U.S. House Chamber – and a thousand-plus member audience. For an hour or more (and in some cases a lot more) the president is the dominant figure in American politics and government. The State of the Union offers the president an opportunity to present a virtually unchallenged case about his version of reality.
Few responses can match the impact because the individual giving the response typically seems smaller and less important than the president.
Gov. Sarah Huckabee Sanders overcame all those challenges and was amazingly dominant, clear, and convincing. When it was over, I felt that I had just heard the clearest case for our civilization and freedom since Ronald Reagan's "A Time for Choosing," speech in October 1964.
I was not the only one impressed by the speech. Joe Gaylord, my partner in the Contract with America campaign (and coauthor of "March to the Majority," which will come out in June) wrote me: "I thought it was brilliant. Well written, well delivered, and encompassed everything I believe."
I then turned to Gay Gaines, who was the head of GOPAC in the 1994 campaign. She wrote, "I thought she was wonderful, sincere, measured and heartfelt…she's hope for our future."
Former Congressman Greg Ganske wrote that Gov. Sanders, "really nailed it. One of best rebuttals ever."
Lisa Nelson, CEO of the American Legislative Exchange Council and former executive director of GOPAC in 1994, wrote: "The binary choices she laid out and the contrast between Sarah and Biden are so easily made and should be shared everywhere."
Claire Christensen, my coauthor of "Trump vs. China," wrote:
"I thought her message that it's time for a new generation of Republican leadership was exactly right. Every single person who believes in the ideals and values she laid out should see this speech as a call to action. The Republican party is made up of people, not politicians, and this was an invitation for anyone who has big ideas, who stands for freedom, and who wants a better future for America to step up and serve."
Faith Novak, one of our key research interns at Gingrich 360, wrote:
"I admire Gov. Sanders and appreciate her commitment to speaking in a manner that presents poise and character. At some points, she pointed out faults with Democratic leadership but stayed focused on the goal at hand, giving a speech that resonated with the American people. …
"Overall, Gov. Sanders conveyed a message the American people needed to hear: Democrats want to strip Americans' freedom of speech, and the Biden administration is full of 'woke fantasies,' [in which] 'children are taught to hate one another on account of their race.'" 
Compared to Gov. Sanders' clear compelling speech, this is the trouble President Biden faces.
According to a new CBS Poll, 49 percent of Americans think Biden's policies are making families' finances worse. Only 21 percent say they are getting better. Further, Americans say Biden's policies are making political divisions worse (50 percent vs. 19 percent who say they are getting better). By 51 percent to 21 percent, the American people say Biden's policies are making immigration worse – not better.
When your base support is in the 19 percent to 21 percent range, you have a problem. Lying about it doesn't help.
And Stephen Moore in Unleash Prosperity Hotline has clearly pointed out President Biden's lies:
"No, Joe didn't inherit an economy 'in ruins.' The economy grew by almost 11% in the six months BEFORE Biden took office.
"No, Joe hasn't allowed more oil and gas development. New drilling permits have fallen to their lowest level in 50 years.
"No, the border isn't under control. An all-time high, two million illegals last year entered – that we even know about.
"No, Joe hasn't 'lowered gas prices.' They were $2.59 when he entered the office and now are $3.49 a gallon.
"No, we are not making progress on the deficit. By the end of this year, Biden will have added well more than $5 trillion of deficit spending. 
"No, Joe, inflation isn't under control. The CPI was 1.4% in January 2021 and 6.5% in 2023. Inflation has run ahead of wages every month."
Last night was a weak night for President Biden and a great night for Governor Sanders. She is a rising star. He is an old star and fading into obscurity.
---
---
Newt's Latest Articles:
---
Newt's Latest Podcasts:
---
Get Newt's Latest Book: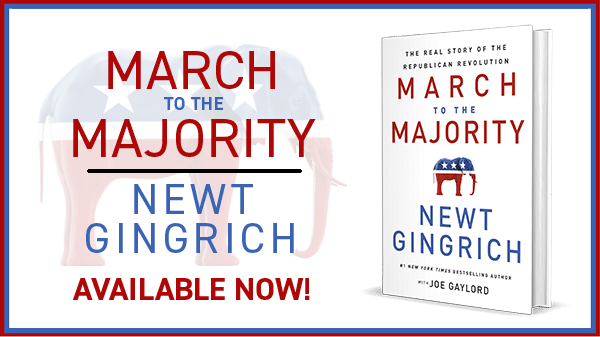 ---