by Newt Gingrich and Tony Coelho 
When Congress passed the Americans with Disabilities Act 33 years ago, the digital-centric world that we now live in was almost unimaginable. In the last three decades, we've seen the emergence of smartphones and tablets, the gig economy and online marketplaces, and dramatic advancements in virtual reality and artificial intelligence. In the post-COVID world, millions of Americans became accustomed to conducting business meetings in virtual conference rooms, learning through online course modules, and consulting with their doctors through telehealth platforms.
In 1990, we couldn't have fathomed just how significant a role that the internet and digital connectivity would play in the daily lives of Americans.
Although most of us rely on the internet for education, health care, and travel, there are millions of Americans who cannot expect to access the internet easily, independently, and privately. This is a result of inaccessible design that interferes with people with disabilities' ability to access websites and apps.
Although we sat on opposite sides of the aisle in Congress, both of us were involved in bringing the Americans with Disabilities Act to fruition. When it passed the House with more than 400 votes, we envisioned a law that would open doors – literally and figuratively – to every part of society. We hoped that that vision of equal opportunity, full participation, independent living, and economic self-sufficiency would fundamentally change our nation's perspective on people with disabilities, making inclusion and accessibility the norm – including online.
What we didn't expect is that so much of life would begin to take place online, bringing people across the world together instantaneously.
More than three decades later, we are celebrating Global Accessibility Awareness Day, a day started to get everyone thinking about digital access and inclusion. We have come a long way in creating opportunities for people with disabilities to live independent and fulfilling lives, but we have a long way to go in creating a virtual environment that is welcoming and accessible and usable for all.
The American Foundation for the Blind recently published a research report that described the frequency of barriers faced by people who are blind, have low vision, or are deafblind. Twenty-one percent of website users and 28 percent of app users reported encountering accessibility barriers on a daily basis. About 90 percent of the survey respondents experience barriers across a wide range of tasks that most of us take for granted, from booking travel to applying for jobs, to taking classes and ordering groceries.
This study looked at the experiences of people with one type of disability, yet there are many other disabilities for which digital accessibility is critical. People who are deaf and hard of hearing, people with mobility disabilities, and people with cognitive disabilities all require inclusive design.
What does all of this look like in the lives of real people? It means that a small business owner has to rely on someone else to complete tasks in an inaccessible work flow. An author can't use the best writing programs because they are inaccessible. A student is told they don't need to learn a lesson because the teacher doesn't have time to adapt the materials that everyone else is accessing online. It goes on and on, impacting absolutely everything that we do online.
Indeed, the impacts are significant. The same study found that people with disabilities can't get their shopping or other tasks done easily, quickly, or independently when there are accessibility barriers in websites or apps. About 80 percent reported feeling frustrated that they don't have as much independence as sighted people have when completing tasks online. These barriers are directly undermining the goals of the Americans with Disabilities Act.
Notably, people with disabilities aren't simply absorbing the impacts of the barriers alone. When they can't do something online, they will switch to a different business or provider that has an accessible and usable website or app, or, will give up and go without the good or service, resulting in lost revenue for the offending business.
American business is known for its innovation, resiliency, and opportunity. Our companies made the internet widely available and highly popular. It's about time that businesses embraced digital accessibility as a key brand imperative and took ownership of the role that web and software design play in the employee and customer experience. People with disabilities should be able to universally access technology even as new innovations occur.
It is time for Congress to hold hearings with members of the disability community and leaders in the business and technology industry to identify the challenges and hurdles faced by users with disabilities, as well as developers of online and digital platforms. Findings from these hearings must inform new legislation for the virtual environment that works to eliminate barriers for platform users and reduce burdens for businesses in rolling out accessibility advancements.
What we do here in the United States to make the internet usable by all will also affect people worldwide. There are few borders to the flow of information online, so accessible and usable platforms here can reach more than 1 billion people globally who have disabilities. Effectively embracing the power of computing is transformational, so digital accessibility is a moral imperative that makes solid business sense.
After all, we should all hope to be lucky enough to age into disability ourselves. Won't we want to continue using the internet easily and independently?
Anthony "Tony" Coelho is a former Democratic member of the House of Representatives who has a disability and was a principal sponsor of the Americans with Disabilities Act.
---
---
Newt's Latest Articles:
---
Newt's Latest Podcasts:
---
Get Newt's Latest Book: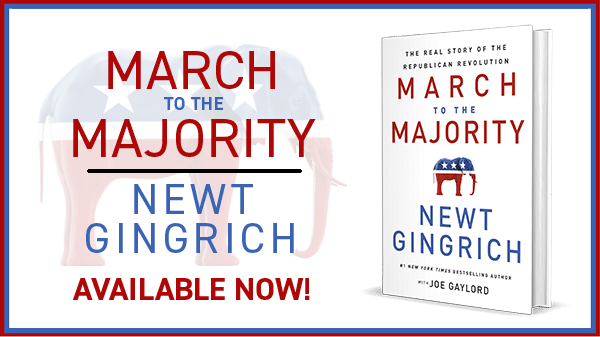 ---