---
---
NEWT:
Look, I think speaker McCarthy had a big victory because it shifted the balance of power towards the house which is much more conservative than the senate, and it put him in a position of negotiating directly with Biden. The next thing they're going to do is offer a balanced budget which should with in the next two weeks, and then following that they are going to continue the investigations and the appropriations fights this fall are very, very important. There are a lot of places where they can cut government spending well below the agreement. The agreement was a ceiling, not a basement, and I suspect house Republicans are going to move to cut a lot of programs in the appropriations this fall.
NEWT:
Look, I just did a podcast at Newt's World with a 33-year veteran of the FBI who says whole system has been corrupted, it was profoundly wrong. We had to move people back into — away from Washington, not build literally a building bigger than the Pentagon. The FBI's lost its mind. It want wants to be a national police force and intelligence force, and the house Republicans should zero out that building, force a profound change in the FBI, shift people out of Washington, back to the local offices where they cooperate with local police and return it to being a law enforcement agency, not an intelligence agency that attacks Americans.
NEWT:
Well, I mean, first of all, the story of the last three months is that no matter what happens, Trump's supporters are for Trump. And he's above 50%. Second, that DeSantis had a shot at consolidating, so it became a race between two people, he totally failed to do that. That's why you're seeing all these new candidates. And that means that instead of being one of two, DeSantis is now one of many. And it's like they're fishing in a small lake and there's this huge lake next door called Trump, and they can't break into that lake. If it continues this way, Trump will be the nominee by the end of March.
NEWT:
I think it's probably almost impossible under current law to ensure an accurate election, and I think the only Republican strategy in the long run is to pick issues and win by margins so big that they can't steal it. If you have a very close election, Democrats have a passion for stealing them. And you look at the way they've used bundling. As Robert just pointed out, when you have the local union which takes care of people in a nursing home going in to vote the people who literally don't cognitively know what they're doing, you know that that union is going to the vote every single one of them for Democrat no matter what their personal beliefs were. I think these are things you've got to be honest about. And we're gradually in Republican states beginning to tighten up the election law, but in states dominated by Democrats like New York, Illinois, California, you just have to assume that the machine will sale as much as it can.
---
Get Newt's Latest Book: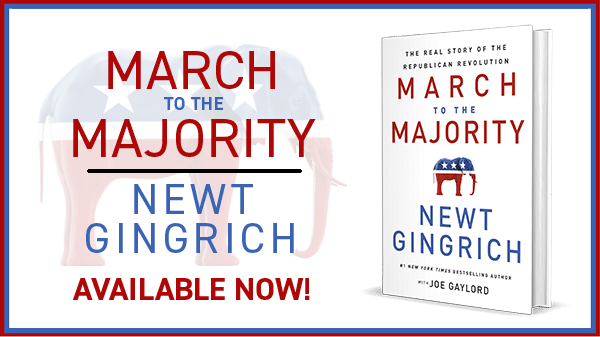 ---
---
More from the Gingrich 360 Team: