---
NEWT:
Thank you. I'm delighted and very excited by it and I think it is simply an important explanation of the policies that allowed us to become a majority and the news today. I think it is a very very significant book.
NEWT:
Well, something like that I think this maybe most important book I have written because relates so directly, to the challenges we have in negotiating with President Biden and so directly to the challenge in getting a majority in 2024. I wrote, the majority specifically as playbook for how we can operate today, as effectively as Ronald Reagan did as effectively as we did, with the Contract with America.
NEWT:
I think they should dig in heels. And insist on the changes. Part of the point of the book, March to the Majority is it took us four years to get to four consecutive balanced budgets. We didn't leap there the first three months, and I think what Kevin McCarthy did, speaker McCarthy in getting the debt ceiling done the first real cut in spending. He is now going to have to police that, because they are already senators want to break it, I think he is going to have to be tough about it. They just have to do this every single day. I think what Chairman Comer is doing is right, I think if the FBI will not turn over an unclassified document they should hold Christopher Wray in contempt I think, again, you and I discussed before they should kill the FBI's proposed 3 1/2-billion-dollar headquarters a building larger than the Pentagon it's an absurdity to create this national police that are basically a tribute to George Orwell's 1984. It is exactly wrong, and they ought to be moving in the opposite direction. But that is going to require one day at a time hanging tough taking one fight at a time including all 12 appropriations bills and insisting on the investigations actually being performed, in an effective way.
NEWT:
Of course, not, look you have to understand, the national establishment the people who went to Harvard, and Yale and Princeton folks belong to skull and bones all these people are united, in determination to retain power over American people. And they are watching a steady up surge of Americans sick and tired of a corrupt elite that is trying to do things. You are seeing this frankly with Target, you saw it with Bud Light I think the Dodgers are going to face tremendous penalties for having brought in an anti-Catholic anti nun viscous group of people. And I think if you look at what is happening here, we know from the Durham Report that virtually everything said about Donald Trump was a lie sadly almost everything being said about Joe Biden is the truth, and yet the FBI is trying to protect him, the justice department trying to protect him, the intelligence community trying to protect him, and it is because you have a left wing establishment which is under siege losing power and they are desperate to stay in charge, and the only way can stay in charge is this kind of constant insult, that is why I think the Republicans in the house in particular, who are the most conservative group in Washington have to stand firm and have to stand united, going to win because they have power of the purse, nothing gets done after October 1 if they don't pass the appropriations bills.
NEWT:
I don't know if they are winning I think we are right in middle of a fight I think on the one hand, you have the entire establishment trying to protect Joe Biden on the other hand the truth does tend to come out, America's an amazing country and the truth is going to be that you know, Hunter Biden had nothing to offer except his father. And he got lots of money from lots of dictatorships because of his father and I think that truth will become literally impossible to avoid.
NEWT:
In national polls he is up over Biden by a bigger margin than I think Governor DeSantis. Look Governor DeSantis has been a very good governor in Florida I think he's very successful, he's certainly done a great job with the state, I think he found it very hard to transition to being a presidential candidate he had a chances early on to make it one of two, he and Trump. He clearly has failed that is why you have new candidates coming in. And all of them, think of it this way there are two lakes, here a Trump lake which is around 53, 54% and there is everybody else, and the problem is that everybody else ought to be focusing on draining the Trump lake and making it smaller, instead they are going to be competing for 47% of the vote I guarantee you at mar-a-lago they break out champagne every time a new candidate would love 15, 20 candidates. And I predicting Trump will not be at debates, he will stay I am ahead by 28, 30, 35 points why get on stage with somebody who is at 3%, and the country will then basically ignore the debates.
NEWT:
I don't, my personal advice is don't do it why would you go there and give publicity to people who cannot get publicity on their own.
NEWT:
No, you tell people he may be indicted in Washington, D.C., a district in which he got 5% of the vote, so 19 out of every 20 potential jurors are anti-Trump, the average American is saying this is clearly a rigged deal I don't think you beat somebody over a rigged deal.
---
Get Newt's Latest Book: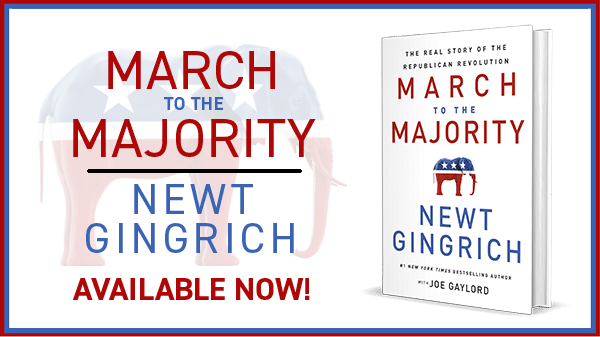 ---
---
More from the Gingrich 360 Team: