---
---
NEWT:
Well, it's a sad comment that we're where we are, although I think this is actually going to broaden even more. And as I've been doing a lot of reading, including an amazing book that Andy McCarthy wrote back in 2019, where he talks about, it's called Ball of Collusion. And he's convinced me that there is a Hillary Clinton Barack Obama Joe Biden parallelism, that actually the House Republicans ought to be looking at all three, that Hillary, after all, is a much bigger breaker of the law than Joe Biden, involving much more money. She had one deal alone that was $35 million where she was making a direct decision to help a Russian company. So I think you're going to see this broaden out. I think probably they're going to have to go to an impeachment inquiry on Garland just because he's not going to cooperate. But I think we should be very clear the power of going, of deciding it's an impeachment inquiry is you can now broaden the speed and the intensity with which you gather information. And what we need right now is the truth. I'm told I was just told yesterday by an Appropriations Committee member that despite months of inquiry, they can't even get an organization chart out of the Justice Department. I mean, the level of stonewalling. I just did a podcast with the director at the Heritage Foundation watching this. He said every single Freedom of Information Act request to the Justice Department requires a court suit because they will not honor any of them. I think when you're faced with that kind of stonewalling, you've got to use the full power of the House to be able to get the information. And we're going to find important a sickening.
NEWT:
Right. And I also think, frankly, it shook up the Justice Department down in Delaware, because all of a sudden you begin to realize if there's going to be a serious impeachment inquiry, you might be brought in for obstruction of justice. Remember, 46 people were convicted during Watergate, 46, including the only attorney general ever to go to jail, which was for obstruction. A point I keep trying to make about the current attorney general, who I think is very vulnerable to an obstruction and may well end up in jail before this is over. And that happened because every day you find more stuff, which leads you to more stuff. And as I said, I think it's actually Obama, Hillary Clinton and Joe Biden. And you have to see the three of them as a pattern that is frankly pretty terrifying of selling out America and corrupting our criminal justice system.
NEWT:
Look, but that's why I think you've got to see the trio. You've got to see what Obama was doing to destroy the justice system. You've got to see what Hillary is doing to steal and get away with it. And then you have here's poor Joe Biden. He's looking and thinking, wow, look how much money Hillary is getting. Nobody is going after her. Maybe it's okay. Maybe I'm in this new corrupt America. Why? Why wouldn't I want to get the money? And by the way, my son can't get a real job, but at least he could be a bagman. And so they sent Hunter around the planet as a bagman for Joe Biden. And they absolute. And I'll tell you, if we didn't have Speaker McCarthy and we didn't have a Republican House, none of this would be coming out.
Get Newt's Latest Book: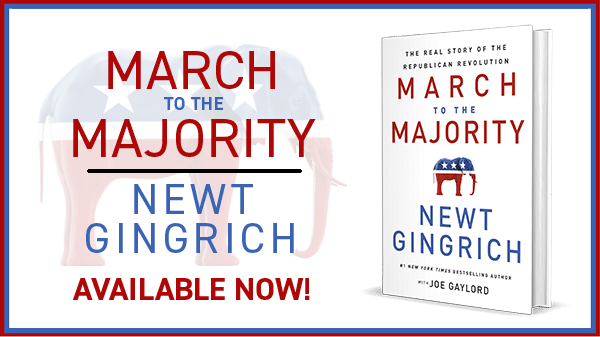 ---
---
More from the Gingrich 360 Team: