---
NEWT:
Well, you have to start with the understanding that the key number is 217 a couple of vacancies. So 217 is a majority. And if you got 217 you got to speaker. If you don't have 217, you ain't got nothing. And the question. Right now, they got nothing. And I think because of what's going on around the world, they should empower the pro tem, Speaker McHenry, to call the House back in on a bipartisan basis, pass aid to to Israel, Ukraine, also to Taiwan and Maui. They come together get it through, it'll be it'll be a bipartisan vote. Some Republicans will be no. Some Democrats will be no. But it would pass prove that the Congress can operate even if the House Republican Conference is in chaos. And then if the Republicans have got to just, I think by exhaustion keep looking at people till they find somebody who can get 217. But 217 is the key number. There's no point going to the floor if you're at 190. We don't need to go back to what happened with Kevin McCarthy, who had to take 15 ballots when he had far more votes than anybody currently running. He beat Andy Biggs in the conference by 180 to 31. He had about 200 solid votes going in, and it still took 15 ballots to wear people out.
NEWT:
Well, that would be hopeless. You cannot bring in an outsider. And being president, you get to hire and fire your cabinet. Being the speaker they get to hire and fire you. The idea of Donald Trump trying to placate, you know, 216 or 17 Republicans would be absurd.
NEWT:
I mean, he has as much power as the House will give him. And the Democrats also want to pass this package. These are you know, there are real people dying. There is this is a real war. We don't have the luxury of saying, oh, let's you know, let's get back together in three weeks.
NEWT:
That just I mean, you got a Biden administration which says if you get here illegally, we'll put you up in a hotel. Now, they don't say that to people who are here illegally. Oh, gosh. I mean, look at New York. I think they just signed $1,000,000,300 million contract to put up illegals for free.
NEWT:
Well, I think we have not been blunt enough and direct enough for 20 years. We keep trying to pacify people who are pretty open. I mean, the key message of Hamas is simple. Not a single Jew will remain. The message of Iran is simple Death to America, death to Israel. We need to be honest and confront this head on. And we need to make people pay a cost for it. You know, the truth is, if we thought about it totally differently, we are liberating the Palestinian people from a corrupt terrorist dictatorship, and they could have a much better future if we can destroy Hamas.
NEWT:
Sure, there is some support for there's a lot of support and there's a lot of anti-Semitism, as we saw at Harvard, as you saw in the rally here in New York. And I think we have to confront it head on. I mean, this is exactly the kind of anti-Semitism that led to the Holocaust. And the fact is, if they could, Hamas would kill every single person in Israel.
NEWT:
My advice is, first, don't go to the floor until you have 217 votes and talk it through and talk it through as long as it takes it. It once took two months and 103 ballots. Now, that was 1856. But at the same time, don't let that stop the constitutional government. So empower Pro-Tem Speaker McHenry to go ahead and call in the House and bring up the aid packages that are needed and get them through on a bipartisan basis.
---
---
Get Newt's Latest Book: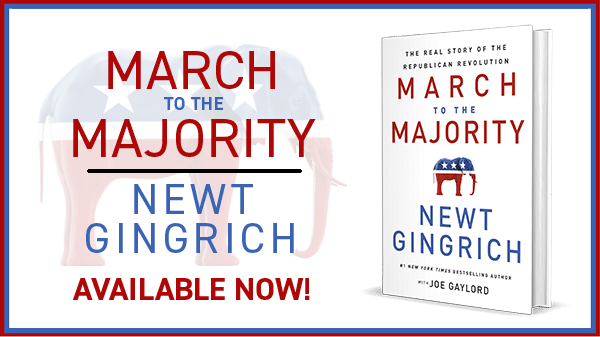 ---
---
More from the Gingrich 360 Team: