---
NEWT:
Well, I mean, how stupid can you be? You're Joe Biden, you want to, you want to, he's pretty stupid. And now he's going to set an all time record. I think that Speaker Mike Johnson may well become a historic figure in the first couple of weeks of his speakership because he's doing two things, not just one. First, he is saying we're going to take this huge, gigantic $106 billion proposal, which is really five different bills, as I noted in a newsletter at Gingrich360, we are only going to deal with the first one, which is the most urgent. That's Israel, and we're going to bring it up. And you really want to vote against helping Israel. Second, he's established the principle of actually offsetting the spending by cutting spending for the IRS. So the bill does not increase the deficit, does not increase the debt ceiling, does not increase the inflation rate. Now, people people in the Senate don't like this because they love to spend money and they understand that once you get a principle that you have to offset this emergency funding, the world gets to be more complicated. So brilliant move, I think, on Speaker Johnson's part and it sets the stage for a very interesting showdown between the Biden White House, the Biden Republicans in the Senate versus the conservative Republicans in the Senate and the House Republicans.
NEWT:
So I think I think I think on the Israeli vote, they're going to get a bunch of Democrats. We've already had I know one Florida Democrat who said he's voting for it. He's not going to be…
NEWT:
But but but, you know here's the greatest challenge for the hard right members of the Republican conference. It's not perfection or no, it is you have a chance right now to make a real statement to stand up for a single bill rather than five huge bills rolled into one, to stand up for the principle of offsetting the spending by having spending cuts and by setting a stage where the House Republicans become the fulcrum of conservatism on which the Senate and the White House have to maneuver or you can blow the whole thing up, in which case you undermine the brand new speaker you just picked, you weaken aid for Israel when the whole country basically believes we should be helping them against this terrorist onslaught. And you undermine the principle that Speaker Johnson is setting, which is we're going to offset emergency spending by cutting other spending. Now, I would say as a conservative, that is pretty dumb not to vote for this bill, given the alternatives, not versus perfection, but given the alternatives. And I hope we are able to unify the conference.
NEWT:
Okay. You just have to remember Nancy Reagan's slogan in the drug war, just say no. Pass a good, strong Israel only bill with offsets and then sit there and say, no, we're not going to screw around. We're not going to agree to some stupid big spending idea. And you can yell at us all you want to. We're pretty happy being conservatives and you seem to be happy being weird. But I wouldn't take seriously those those Senators, I think of as Biden Republicans they are no longer rhinos. They're Biden Republicans.
---
---
Get Newt's Latest Book: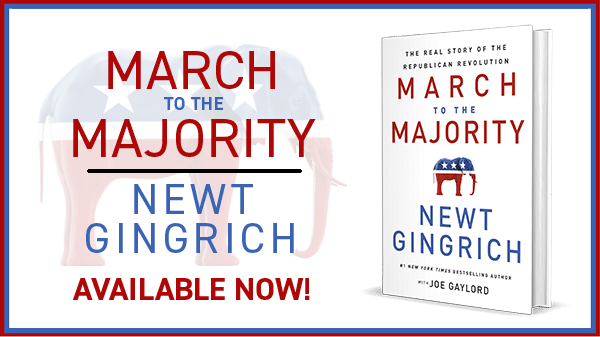 ---
---
More from the Gingrich 360 Team: