---
As an American consumer, you are suffering from President Biden's poor handling of the economy simply because the Biden administration lacks the gift of foresight. 
---
by Isabel McMahon 
In any introductory economics class, students typically read French economist Frederic Bastiat's Broken Window parable. This parable is meant to demonstrate the seen and unseen effects of policy, and what policy-makers must keep in mind when making political, economic, or social decisions.  
In the case of the Biden administration, it appears that unseen effects have been pushed aside as an afterthought. Why might this matter? The answer is simple: decisions that seem right in the moment oftentimes result in less than desirable outcomes. Take for example the sweeping vaccine mandate for all American companies with more than 100 employees.  
The seen effects of this mandate are clear, either get the vaccine or pay $14,000 per infraction. The unseen effects, however, are much more precarious. These unseen impacts range from people leaving the workforce entirely, or for smaller companies (under 100 employees), maternity ward closures, inflation due to underproduction, and most importantly, a massive disruption to the supply chain.  
There is a growing list of crises the Biden administration is facing, or more often than not, failing to confront. These crises are a result of poor policy implementation and lack of foresight. As mentioned above, supply chain bottlenecks, or the stall in production, are a direct result of this. Low worker morale and excessive demand from consumers have resulted in a shortage of goods ranging from toilet paper to bathroom sinks, and even Christmas gifts.  
What the Biden administration excels at is what can be termed "just in time" management. Former President Donald Trump worked to keep the supply chain gears from grinding to a halt during the peak of the COVID-19 pandemic, working with the people on the ground and forcing bureaucrats to actually do something. President Biden, however, would prefer to kick the can down the road.  
The supply chain crisis originates from disruptions to Chinese production. This crisis grows in severity when it reaches America's coastline, "…the Port of Los Angeles, which—together with the adjacent Port of Long Beach—handles 40% of containers bringing both finished goods to American homes and critical parts and materials to American factories." Incoming cargo is up 30% from last year, and both labor and equipment shortages mean that trucks and trains cannot remove it quickly enough, which is what is contributing to the logjam says Gene Seroka, the Executive Director of the Port of Los Angeles.  
Moreover, the cost of shipping a "40-foot container of goods from Shanghai to Los Angeles cost $12,424 this week, triple the spot price at the start of the year," according to the Drewry World Container Index. Freightos, an online international freight marketplace, "shows a 40-foot box soaring past $20,000, compared with less than $4,000 in early 2021" according to Bloomberg.  
Peter St. Onge of the Heritage Center made an important point when clarifying what exactly was meant by President Biden's announcement that ports would be open 24/7: "The sister Port of Long Beach did implement so-called 24/7 operations several months ago—a magic wand Biden dangled for the Port of Los Angeles on Oct. 13. But in reality, "24/7" at Long Beach means only one of six terminals, and only Monday to Thursday." 
The results of this logjam are never ending. Target and Home Depot are chartering their own ships only to be met with the chaos of the American supply chain. Sam's Club and Costco are reimposing purchasing limits akin to the toilet paper restrictions of late 2020. Across the United States grocery stores are reporting shortages of milk, bread, and juice due to driver shortages.  
As an American consumer, you are suffering from President Biden's poor handling of the economy simply because the Biden administration lacks the gift of foresight. The supply chain crisis is not just because Americans have an increased demand. It is also due to poor government planning.  
A year ago, former President Trump warned that "The policies of the left would unleash an economic disaster of epic proportions." He was right. Get to the store and buy the Christmas gifts for your family and friends early. And the next time you go to the voting booth, remember what the left's policies have unleashed.  
---
---
---
Newt's Latest Features:
Get Newt's Latest Book: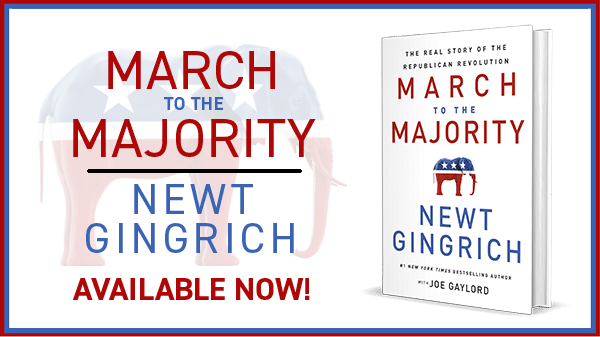 ---