The establishment Washington media will not acknowledge it, but Speaker Kevin McCarthy's Republican House majority has been remarkably bipartisan.
---
The establishment Washington media will not acknowledge it, but Speaker Kevin McCarthy's Republican House majority has been remarkably bipartisan.
House Democrats have voted with Republicans 34 times so far this year. Twenty-four bills have passed with bipartisan support. Only four bills have passed with Republican votes alone. On 20 of these votes, a majority of the House Democratic Party has sided with Republicans.
Part of the bipartisanship comes from bringing up issues on which the American people agree. The growing fear of China led to 146 Democrats joining House Republicans for H. Res. 11 – Establishing the Select Committee on the Strategic Competition Between the United States and the Chinese Communist Party. On another vote, 113 Democrats joined with Republicans in blocking the sale of oil from the Strategic Petroleum Reserve to China.
That a majority of House Democrats joined with House Republicans on two votes about containing China reflects President Abraham Lincoln's rule that "with public sentiment, nothing can fail: without it nothing can succeed."
Gallup's recent report explained why most Democrats are helping to form a bipartisan consensus on China. According to Gallup:
"For the third year in a row, Americans are most likely to mention China as the United States' greatest enemy in the world today. When asked the open-ended question, 50% of Americans say China is their nation's greatest enemy, with most of the rest, 32%, naming Russia. North Korea, which was viewed as the greatest enemy in 2018, is now a distant third at 7%." Gallup went on to report that "China's position atop this year's list is notable for extending the longest stretch of time such a large proportion of Americans have agreed on what country represents the United States' greatest enemy."
The most interesting act of bipartisanship may have been when 34 Democrats joined Republicans in voting to nullify the Revised Criminal Code Act of 2022, which was enacted by the city council of the District of Columbia. The bill so drastically reduced penalties for criminals that Mayor Muriel Bowser opposed the bill and vetoed it. Her veto was then overridden by the city council. (Bowser is now performing political gymnastics as she opposed the city's new law and Congress's effort to stop it.)
The House vote came on the same day that Democrat Rep. Angie Craig of Minnesota was attacked in her DC apartment building by someone with a long history of violence. She voted to overturn the DC crime bill, and 33 other Democrats joined her.
The city's crime issue intensified and ultimately the DC city council withdrew the bill. There was a real likelihood that as many as 70 senators would vote to repeal it, and President Joe Biden signaled that he would not veto the effort. As of this writing, the Senate still plans to hold a vote. This was a huge bipartisan success in improving public safety in the nation's capital under Speaker McCarthy's leadership. Under Speaker Nancy Pelosi, it's almost certain the issue would never have been brought before Congress, and DC residents would be in much more danger.
In another DC government related vote, 42 Democrats joined with Republicans in overturning a provision that would have allowed non-citizens to vote in district elections.
On a practical issue involving the Secretary of Transportation's inability to manage the air traffic control system, an overwhelming majority of Democrats (207 of them) joined with House Republicans to direct the Federal Aviation Administration to establish a Task Force on NOTAMs (which are notices to airmen about flying conditions and other essential information). This overwhelming vote (total 424-4) reflected the public anger over the air traffic system being shut down due to bureaucratic incompetence (for the first time since 9/11). The entire country was upset over the bureaucratic failure, and Democrats were reflecting the anger they were hearing from their constituencies.
In a clearly ideological vote, 109 Democrats voted with Republicans on a resolution condemning socialism and opposing socialist actions by the government. Interestingly, 86 Democrats voted no, and 14 voted present (faced with infuriating the party's socialist wing or the public, I suppose the 14 chose to be timid).
The difference between the grassroots oriented leadership of Speaker McCarthy and the ideological dictatorship that Speaker Pelosi exercised over the last four years has been astonishing.
The upcoming vote on HR5 – The Parents Bill or Rights Act – will be another big test. Since 84 percent of Americans favor the policies in the bill, there will be real grassroots pressure in every district to support parents and education reform. On the other hand, the teachers' unions are the most powerful political organizations in the Democratic Party – and the unions deeply oppose parents having rights in classrooms. Every Democrat will have to weigh popular support in the general election against an almost guaranteed primary if he or she sides with parents against the teachers' unions.
Speaker McCarthy and House Republicans are proving they can keep their Commitment to America. By aligning their efforts with popular support, they will get a surprising number of bipartisan votes from the Democrats – which will create a remarkably effective Congress.
This is a return to a positive, we the people-focused era of American government. If Speaker McCarthy continues this pattern of leadership, he and his fellow members will make history.
---
---
---
Newt's Latest Articles:
---
Newt's Latest Podcasts:
---
Get Newt's Latest Book: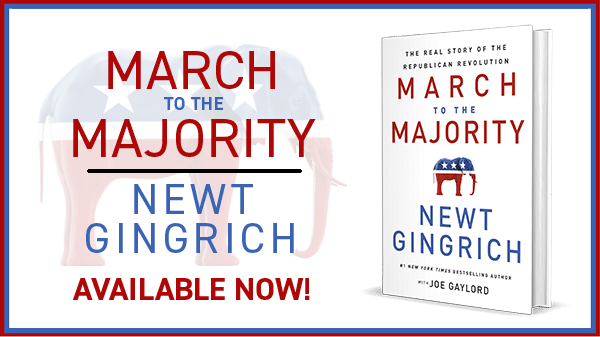 ---