---
NEWT:
I suspect there'll be a government shutdown. I think, you know, look, what the Senate did is easy. They just totally surrendered to Biden. You look at the Senate bill it reforms nothing. It cuts nothing. But it finds money for Ukraine, but no money for the border. I happen to support helping Ukraine, but I don't think we ought to put a priority over the Ukrainian border, over the American border. New York City just announced they're going to spend one billion three hundred million dollars hiring 100 different hotels next year just to house illegal immigrants. You know, I think this whole thing is absurd. And I think the House Republicans, it's difficult as it is as hard time as they're having. They're trying to do what the American people want, which is cut spending to get inflation under control, to bring down the deficit in the size of government. The Senate's doing nothing when the Senate basically rolls over gives Biden everything he wants. And frankly, I think we're moving from rhinos to Biden Republicans in a way that's, I think, very harmful to the country because the American people don't want business as usual. They want spending cuts. They want reforms. We run a project called the American, America's New Majority Project. The polling data is overwhelming and the Senate deal doesn't do anything the American people call for.
NEWT:
Look, I think what he's doing is right. He's doing a better job than I could have because I'm not nearly as good at listening to everybody every day, all day. And Kevin's very patient. He's very resilient. The fact is, last night was a minor victory for him, but it was a victory inch by inch I think he's getting his his colleagues understand. I hope watching the Senate Republicans fail to do their job will convince the conservatives in the House that the best chance they have of affecting history is to get together as a team, pass something send it to conference, and firmly stand there and not give Biden and the Senate Republicans the kind of sellout that they want. Not not to the American people again, and the America's New Majority Project, which you can see at that website, we just got a poll back that said a substantial majority would rather have spending cuts with a shutdown than spending increases with no shutdown. I mean, a very substantial majority. Remember when I was speaker, we shut the government twice, once for 27 days. The result was we became the first reelected Republican majority since 1928 because people thought we were serious. The American people are in pain. They think Biden is a failure by huge margins. They think that inflation is the biggest single problem and they're watching the Senate do nothing. I think they prefer what the hard, difficult process of a free society. That's all we're saying. This is freedom and public. And I think we should be grateful that we have a country where people can argue, gradually get to a solution. My hope is that the Senate that the House Republicans will pass a better bill with more reforms and more cuts and then stand firm to the White House and the Senate if that means the government shuts down. My experience is it's better to shut the government down for a little while and get this thing under control than to keep paying every interest group in Washington and keeping up the inflation rate and the deficit.
NEWT:
Look, Washington loves spending. They love your money going into their pocket. They love your money paying off their donors. They love your money, paying off their interest groups. The country is not in love with that. That's why Donald Trump is almost certainly going to be the Republican nominee. The country is trying to send a signal, get government under control, cut spending, bring down the inflation rate and get back to economic growth. And I don't sense that the Senate got any of those messages.
NEWT:
Well, first of all Callista and I are going to be watching the debate with great interest. The Reagan Library is an amazing place. I think it's important that they debate. I think it's better for them that they're debating without Trump because he is so dominating. I think that Nikki Haley has had a good run recently. Certainly Vivek Ramaswamy has had a very good run. And it's not impossible for somebody to show up and genuinely compete with Trump. But it's pretty clear that while he's a great governor of Florida, governor DeSantis is not going to be the alternative in the end. And if he remains in the number two slot, a very weak number two. He's currently 43 points behind Trump. Then I don't see how anybody else has a shot. If they can get past him tonight. And Nikki Haley is the most likely to do that. And Ramaswamy is second. You know, you can have a more interesting race by the time you get to Iowa.
NEWT:
Okay, everybody who is concerned about this should read Thomas Wolfe's novel about Bonfire of the Vanities, about New York Justice, the fact that in one of the most liberal states in the country, one of the most democratic states in the country, you have a Democratic attorney general and a Democratic judge who both agree that if they can get Donald Trump, they will. Fact is, Donald Trump is rich, was rich, will be rich. And the fact is that I think he's able to go to the country. Remember the thing about Trump is he's not a candidate. He is the champion of a movement, a movement that is sick and tired of corrupt politics, sick and tired of clever judges and clever lawyers. And that regards this is just one more assault on Trump, which would not be happening if he were a liberal Democrat. So my guess is he will survive this as he survived the others. Each time he gets indicted, each time he has a problem. It confirms, by the way, also for African American males who are now beginning to be for Trump in surprisingly large numbers because they just look at what's happening to him as what's happened to them and they see the establishment going after him the way they feel the establishment goes after them.
NEWT:
I don't think tis affects Trump negatively at all. It's a general sense and it's also a general sense that this guy is being attacked because he's a real threat. Look what's happening to Robert Kennedy Jr. Yeah. He can't get on the ballot because the democrats are afraid of competition. Look what's happened to the People With No Labels. They're being attacked by Democrats everywhere about trying to get on the ballot. The Biden Democratic model is if we have no opponent, if there is no serious election, if no one has any choice, we'll get reelected no matter how often we fall and how stupid we are that they're models to eliminate the opposition, not to win.
---
Get Newt's Latest Book: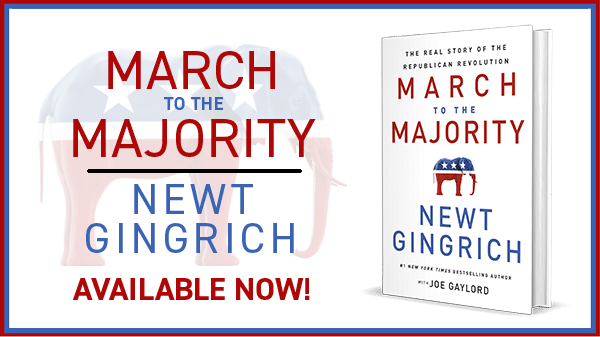 ---
---
More from the Gingrich 360 Team: