---
President Biden does not care about unification. He quite evidently doesn't care about defending our law enforcement officers, or those they swear to protect.
---
by Isabel McMahon
"No one will be safe in Biden's America."
At his address to the Republican National Convention in August 2020, former President Donald Trump warned Americans about what we would endure in President Joe Biden's America. For many, President Trump's law-and-order platform represented support for our men and women in blue and our rejection of the idea that our local heroes are systemically racist. This stood in stark contrast with the left-wing "defund the police" narrative — from which Biden has struggled to distance himself.
Why did Trump choose the platform of law-and-order? Let me provide a few key examples. As violent protests sprung up across the nation after the death of George Floyd, cops were likened to pigs. Chants at a Black Lives Matter march in St. Paul, Minnesota echoed the disturbing message of "pigs in a blanket, fry 'em like bacon." In Los Angeles, video surfaced of a supposed protestor at a Breonna Taylor demonstration calling a black police officer the n-word while he was standing guard outside of a police precinct.
This vitriol and stunning display of barbarism is why President Trump felt obligated to warn us that "your vote will decide whether we protect law-abiding Americans or whether we give free rein to violent anarchists and agitators and criminals who threaten our citizens."
Many on the left were quick to point out that the violence and destruction of American cities that took place after the death of George Floyd on May 25, 2020 was under Trump's watch. What they failed to pay attention to, however, was his resounding support for those who had to confront the growing danger on our city streets and his condemnation of woke anarchy masquerading as social justice.
For President Trump, there was no bogey-man. Systemic racism wasn't to blame, nor was it used as a scapegoat.
The same cannot be said for President Biden. Time after time, Biden and his administration have sought to present the enduring crime wave as a symptom of systemic racism and white supremacy. Take for example his remarks at the 100th Anniversary of the Tulsa Race Massacre on June 2, 2021, where he said "according to the intelligence community, terrorism from white supremacy is the most lethal threat to the homeland today. Not ISIS, not al Qaeda — white supremacists."
Are white supremacists alone responsible for the rising crime rates in San Francisco? For instance, the number of thefts from vehicles has risen by more than double with 1,891 thefts in May 2021 compared to only 923 in the same month of 2020.
Are white supremacists alone responsible for the rising crime rates in Minneapolis, Minnesota, where there were 34 homicides in May, an 89 percent increase year-to-year? The crime does not stop there however. Robberies are up 34 percent, and total violent crimes are up 14 percent, with carjackings increasing by 53 percent since June of last year.
Are white supremacists alone responsible for the uptick in crime in New York City? According to the NYPD, "For the month of May 2021, overall index crime in New York City rose 22% compared with May 2020, driven by a 46.7% increase in robbery (1,182 v. 806) and a 35.6% increase in grand larceny (2,848 v. 2,101). Felony assault saw a 20.5% increase compared to May 2020 (1,979 v. 1,643), and shooting incidents increased to 173 v. 100 in May 2020 (+73%)."
The answer to the increase in violent crime is not white supremacy. It is not systemic racism. It may simply be the mass exodus of police officers who no longer want to step into the line of fire for an increasingly ungrateful nation.
In his August 2020 address to the RNC, Trump spoke about how police "…[A]re afraid to act. They are afraid to lose their pension. They are afraid to lose their jobs. And by being afraid, they are not able to do the job that they so desperately want to do for you."
According to Heather Mac Donald, a Thomas W. Smith Fellow at the Manhattan Institute, "retirements were up 45 percent from April 2020 to April 2021 in 200 police departments surveyed by the Police Executive Research Forum; resignations are up 18 percent."
Mac Donald went on to say: "The Riverside, Ill., police department usually gets more than 200 applicants for its police exam; last year, it had 62 — its lowest turnout in 42 years. The Portland, Ore., Police Bureau lost more officers to retirement in August 2020 alone than in all of 2019. The Asheville, NC, police have stopped responding to low-level crimes because they have lost about a third of their staff to resignations and retirement. Seattle's response times to the highest-priority calls have plummeted thanks to resignations by younger officers and the inability to recruit replacements."
In the first five months of this year alone 37 officers have been murdered, compared to 46 murdered officers for the entire year of 2020. According to FBI Director Christopher Wray, this does not include those lost in "…the line of duty facing the countless other inherent dangers of the job, like from a car accident in pursuit after a subject or drowning during an attempted rescue…" In total, 148 officers have died this year, compared to 134 in 2020.
The exodus of police officers from precincts and departments across the nation should come as no surprise as Biden absentmindedly and maybe intentionally claimed that law enforcement is the reason people lose sleep at night. As President Biden said on April 20, 2021:
"In order to deliver real change and reform, we can and we must do more to reduce the likelihood that tragedies like this will ever happen and occur again; to ensure that Black and brown people or anyone — so they don't fear the interactions with law enforcement, that they don't have to wake up knowing that they can lose their very life in the course of just living their life. They don't have to worry about whether their sons or daughters will come home after a grocery store run or just walking down the street or driving their car or playing in the park or just sleeping at home."
The above statement directly conflicts with Biden's claim from June 2, 2020 that "I [Biden] will seek to heal the racial wounds that have long plagued this country — not use them for political gain." If Biden wanted to heal racial wounds, why would he assert that officers of the law are the reason your sons or daughters won't come home from the grocery store?
The answer is simple: Trump was right, Biden was wrong.
President Biden does not care about unification. He quite evidently doesn't care about defending our law enforcement officers, or those they swear to protect. If he did, he would not be hiding behind the false narrative of systemic racism. Rather, he would acknowledge the real problem: the danger of the far left's woke crusade and its unsettling campaign to defund the police.
---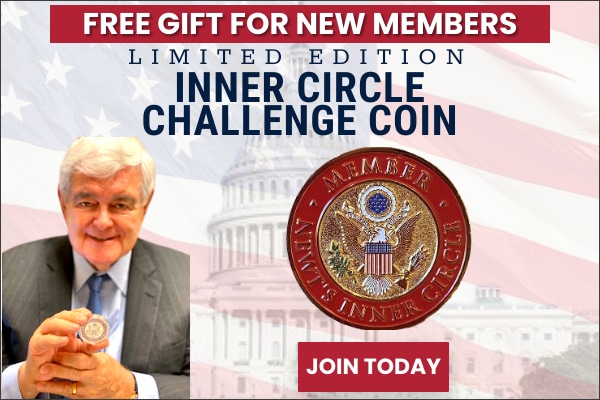 ---
Newt's Latest Features: