Those who argue that President Joe Biden is too old to run for re-election are wrong. He's not too old – he's too Joe Biden.
---
Those who argue that President Joe Biden is too old to run for re-election are wrong. He's not too old – he's too Joe Biden.
His age isn't the problem. His competence is.
It struck me as Callista and I were watching the movie, "Book Club: The Next Chapter" that we have been talking about Biden's cognitive problems in exactly the wrong way. In the film, a cast of actors and actresses in their 70s – and an 85-year-old star – successfully carry off a light romantic comedy.
Callista and I were happy in part because it is really a travelogue carrying you through Rome, Venice, and Tuscany. When Callista was U.S. Ambassador to the Holy See, we lived in Rome for three and a half years. We spent a little over two weeks this summer in Venice, Rome, and Amalfi. We love Italy so much we watch virtually any movie that takes place in that remarkable country.
However, as I was watching, I realized that, at 85, Jane Fonda was doing a solid job of being active, dynamic, and attractive. While I disagree deeply with her radical views – and have never forgiven her Hanoi Jane period – I think she is an American institution and has earned that status through hard steady work.
This reminded me of a recent article about Clint Eastwood starting a new movie at 93.
Callista and I have just finished a video series called "Journey to America" about legal immigrants who have enriched America through their talent and hard work. We interviewed Henry Kissinger, who at 100 is working on a new book.
I began checking around.
Rupert Murdoch is running the Fox Empire at 92.
Warren Buffett is investing billions at 93.
Helen Mirren is performing brilliantly at 78.
Paul McCartney is staying busy and traveling around the world at 81 as one of the wealthiest musicians in the world (estimated worth nearly $ one billion).
Dame Judi Dench continues to make several movies a year at 88.
Chuck Grassley, who will be 90 in two weeks, was re-elected to his eighth term in the U.S. Senate. He was first elected in 1980. He is now the longest serving Republican Senator in history and is aggressive in digging out the facts about corruption in the Biden administration and continuing his work with whistleblowers.
Grandma Moses (Anna Mary Robertson Moses) took up painting at 78 and became a world-famous painter who created more than 1,500 paintings. She passed away at 101.
The point of this long list of continuing achievers is that age is not the problem for them. Some people age well and remain major contributors to their art or profession. Some others age badly and are less effective long before many of their contemporaries.
So, Biden's problem is much more about him and his abilities.
The truth is, as a candidate, U.S. Senator, Vice President, and President, Biden has always had a loose relationship with reality – and a stunning willingness to just make things up. His recent story about his house almost burning down is a lie he has told on at least eight occasions over the years. It simply is not true, and that simply does not matter to Biden.
President Biden telling the parents of those who were killed during his administration's disastrous Afghanistan evacuation that his son Beau had died while serving in Iraq is another example of his unending – and, indeed, mystifying – willingness to make things up. (Beau died from cancer in Maryland.)
His lack of accurate memory may have gotten a little worse — but there has always been a big gap between the truth and Biden's recollections.
Importantly, his cognitive decline is clear and painful. To have the leader of the most powerful nation in the world wander around a stage because he does not know where he is supposed to go – or what he is supposed to do – is just plain frightening. His slipping mind compounds with his lifetime of yarn-spinning and it makes both seem worse.
Just remember the next time this comes up: It isn't about Biden's age, it's about Biden.
More from Newt:
---
---
Get Newt's Latest Book: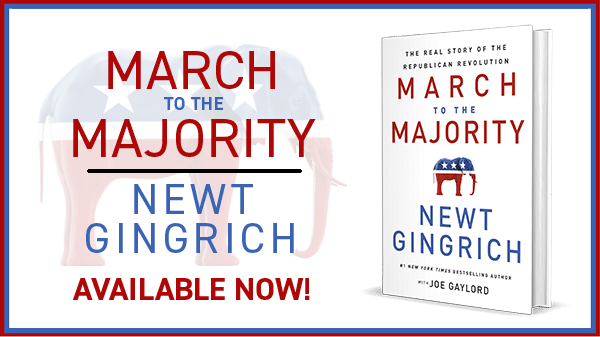 ---
---
---
Newt's Latest Articles:
---
Newt's Latest Podcasts: