Congress must take swift action to find, identify, and dismantle the organizations supporting terrorism in the United States.
---
Since Hamas's horrific attack on Israel on Oct. 7, antisemitic hatred has run rampant in the United States and abroad.
Hateful demonstrations and acts of intimidation and violence against Jewish students have become alarmingly commonplace at American universities.
As my wife Callista wrote this week, much of this hatred is being fueled by social media – on TikTok in particular. This is because pro-terrorist states and entities such as the Chinese Communist Party (which effectively controls TikTok) have found it useful to divide America by indoctrinating our youth with antisemitic, anti-Western, and anti-American propaganda.
At the same time, nonprofit groups in the U.S. are also supporting Hamas and other terrorist groups more directly. As the New York Post reported, leftwing billionaire George Soros has given more than $15 million to various groups that are now demonstrating against Israel and openly supporting Hamas's terrorism and hatred of Jews. American Federation of Teachers President Randi Weingarten (who says she is a deeply religious Jew) recently attempted to criticize Jewish prayer services in support of Israel because no women were present in footage of the event. (As Fox News host Mark Levin pointed out, traditional Jewish services have been segregated for thousands of years and the women were simply in a different space praying.)
Even worse, this antisemitic hatred is flourishing in the U.S. Congress. The so-called Squad has been vehemently anti-Israel for years.
Thankfully, House Republicans are beginning to root out, unmask, and shut down U.S.-based groups that are supporting terrorism.
On Nov. 15, House Committee on Ways and Means Chairman Jason Smith announced his committee would be looking into tax-exempt charities operating in America that are "providing support, encouragement, and potential financing to Hamas and Hamas-affiliated groups."
He cited two known instances of U.S.-based charities supporting the group, which came to the committee's attention since the Oct. 7 attack on Israel.
Roughly two decades ago, a tax-exempt organization called the Holy Land Foundation had funneled $12.4 to Hamas. It was shut down in the early 2000s shortly after federal officials discovered the group. The group was reportedly a side project of American Muslims for Palestine, which shared leadership with the Holy Land Foundation. American Muslims for Palestine has been sued in federal court but is still operating and "may be continuing the same efforts to support Hamas," Chairman Smith said.
The second instance of pro-Hamas support was also linked to American Muslims for Palestine. Chairman Smith reported that the group helped organize Students for Justice in Palestine, which has been helping to fuel antisemitic hatred on college campuses across the nation. As Smith said, the mass pro-terrorist college movement that has arisen since the Oct. 7 attack "is not some organic movement – it has been carefully built over years, in part, by American Muslims for Palestine."
Chairman Smith, whose committee oversees aspects of tax-exempt organizations – including colleges and universities – had a clear message for college leadership:
"Unfortunately, an absence of leadership on college campuses has allowed hostility toward Jewish students to escalate since October 7th. And too many university presidents have sought to placate the most radical voices on their campuses.
"University presidents were quick and forceful in issuing statements supporting numerous social justice matters. They haven't shied away from commenting on other events affecting their students. But when it comes to the bloodiest days for Jews since the Holocaust, they couldn't find their voices."
He noted that Cornell University's president has said she doesn't consider Hamas's brutal attack on Israeli civilians (including babies) to be terrorism. Harvard's president was also silent on the attack for days, letting anti-Israel groups effectively speak for the school.
Chairman Smith was also clear about his expectations going forward.
"At the same time, we have seen pro-Palestinian protests become means of intimidation and threats of violence. When they fail to act, universities claim it's about free speech rights. But this is laughable. These universities have a track record of failing to protect free speech rights while instead protecting preferred speech. In fact, colleges are actively suppressing speech protected by the First Amendment…
"This shouldn't be hard. Good people around the world have the moral clarity to call out evil as evil, terrorism as terrorism. We should have that same moral clarity as we proceed today."
Many Americans agree with Chairman Smith. As we found at America's New Majority Project, a plurality (45 percent) of Americans agrees that expressing support for Hamas and other terrorist groups should not be protected by the First Amendment. Majorities say calling for the destruction of Israel (51 percent) and expressing support for the killing of Jews (60 percent) should not be protected. Further, 66 percent of Americans say activities designed to intimidate or frighten Jewish Americans is not protected.
Of course, Chairman Smith's committee – and others in Congress – have their work cut out for them. In addition to universities allowing support for terrorism to flourish, anti-Israel countries are also supporting universities. As the National Desk reported, foreign countries are sending billions to American colleges. Arabic countries alone have funneled $8 billion to American Ivy Leagues over the last 10 years. And this is only the money that universities publicly acknowledge. Under President Donald Trump, the U.S. Department of Education found that many more billions of dollars of foreign funds were going unreported by colleges.
We cannot allow antisemitic, anti-West, and anti-American forces to infiltrate and undermine our country and our allies. Congress must take swift action to find, identify, and dismantle the organizations supporting terrorism in the United States.
Our nation's survival depends on it.
---
---
---
Get Newt's Latest Book: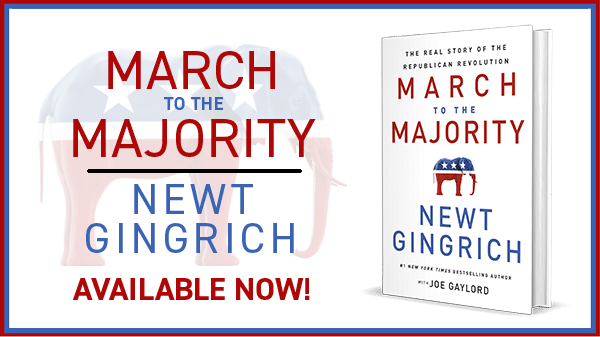 ---
---
---
Newt's Latest Articles:
---
Newt's Latest Podcasts: